2014 Golden Pineapple Award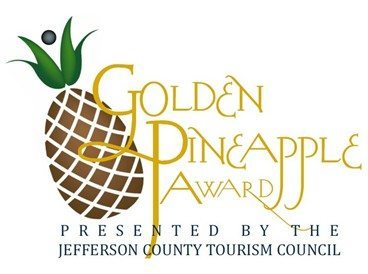 Have you ever had an exemplary customer service experience in Jefferson County? Has someone gone above and beyond to help you? The Jefferson County Tourism Council (JCTC) bets you have had many such experiences and they want to hear about them.
Reward your great service experience by nominating that person for the 4th annual JCTC Golden Pineapple Award. Nominees should work or volunteer for a Jefferson County business or organization.
"We are looking for a person who makes your day better, who does the unexpected. These front line people are the face of Jefferson County and help to make us a destination. And we don't think they get enough credit, that's why this award was created," said JCTC Board President Leigh Price.
We will be presenting our Golden Pineapple Award to one of the nominated individuals at an awards ceremony on Wednesday, October 15.
The pineapple, especially in Colonial times, was felt to represent a sense of welcome, good cheer, and human warmth. We believe it is the perfect symbol for this award. The top nominees will be honored at a dinner on October 15, 2014, with the winner receiving a cash award. Last year's winner was Michael Cobleigh of Sentry Foods in Fort Atkinson.
NOMINATION DEADLINE: September 15, 2014.
Please check our website for additional information – https://enjoyjeffersoncounty.com/golden-pineapple-award/
Katie was the Executive Director of the Lake Mills Main Street Program from 2011 to 2019 and was the Secretary for the Jefferson County Tourism Council. In 2019, she retired to explore a new fashion degree and travel throughout the world. Katie was also a writer and contributed a great deal of copy for our website and printed guide. She was a great asset to our organization and we'll miss her!