Through December 22, 2013 – A FIRESIDE CHRISTMAS 2013
For almost twenty years, The Fireside has presented the area's most beautiful and original musical revues in celebration of the most joyous holiday of the year.  Each year The Fireside's Christmas offering has become, without question, the most popular and sought-after show of the season. It's always gorgeous; it's always entertaining; it's always filled with inspiration and love. It always has a new look, a new sound, new music, new choreography, new costumes, new settings, and a new, fabulous cast of performers. What doesn't change from year to year is our everlasting dedication to artistic quality and the true meaning of Christmas.
Wednesday, Thursday, Saturday & Sunday Matinee arrival 10:30am, Thursday & Saturday Evening arrival 5:00pm, Sunday midday 2:30pm.
The Fireside Dinner Theatre, 1131 Janesville Avenue, Fort Atkinson
800-477-9505
---
Through January 1, 2014 – Holiday Lights in Ripley Park
Sunday – Thursdays 5pm-8pm
Friday & Saturday 5pm-9pm
Bring your family and friends through this quaint light display that will be sure to put you in the holiday spirit.  From the comfort of your own car drive through the half mile of winter scenery and beautiful lights. Receive a free hot cocoa when you bring a non-perishable food item for the Cambridge food pantry.
Sundays – Thursdays – $3.00 per car; Fridays and Saturdays – $4.00 per car
5pm-8pm
Cambridge – Ripley Park
www.cambridgecap.net – 608-423-8108
---
December 13-15, 2013 – Marv Kraus Promotions – Gun Show 
Gun Show Friday 4-8pm; Saturday 9am-5pm; Sunday 9am-3pm
Jefferson – Jefferson County Fair Park – 503 N. Jackson Ave.
www.jeffersoncountyfairpark.com
563-608-4401
---
December 13, 2013 – Neil Berg's Broadway Holiday  
Neil Berg's Broadway Holiday concert features Broadway stars from Phantom of the Opera, Les Miserables, Jekyll and Hyde, Fiddler on the Roof, Wonderful Town, Tarzan and Cats – singing the hits from their Broadway musicals, interspersed with holiday favorites like White Christmas, We Need a Little Christmas, and more!
Whitewater – UW Whitewater – Young Auditorium
262-472-5705
---
December 14, 2013 – The Nutcracker   
During this time of year when the ground is frosty and holiday cheer is in the air, there is one performance that should be on the must-see list! That is the most beloved ballet – The Nutcracker.
Whitewater – UW Whitewater – Young Auditorium
262-472-5705
---
December 14, 2013 – Tyranena Ladies Club "Breakfast with Santa" 
Enjoy a wonderful breakfast and a visit from Santa.  Held at the American Legion Post 67.9am to 10:30am
Lake Mills
---
December 14, 2013 – Winter Market 
If you're already counting the days until the Lake Mills Farmers' Market opens up in May of 2014, never fear – we have just the event to tide you over!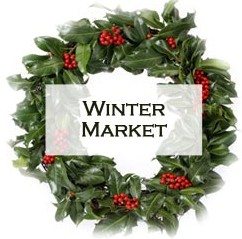 Some of your favorite Lake Mills Farmers' Market vendors will gather on Saturday, December 14 for our annual Winter Market. The hallways and Community Room of the Lake Mills City Hall will be bursting with food products, jewelry, Christmas crafts. You'll be able to stock up on honey and baked goods. You will find a wide variety of items, ranging from hand-turned wooden items to wonderfully scented soaps and candles, and hot food and more will be available.
Do you already miss Flying Cow Pizza? They will have a "bake and take" booth this year – order a few to take home and bake, or order more than a few to take home and freeze – this will tide you over until Flying Cow returns to the Farmers' Market next May!
The number of participating vendors continues to grow each year!
Enjoy holiday music all day, from live groups to popular recordings.
If you are going to the Tyranena Ladies Club Breakfast with Santa at the Legion that morning, don't forget to bring the family down the block to City Hall and enjoy the Winter Market!
9am – 3pm
Lake Mills, 200 Water Street
920-648-6721
---
December 17, 2013 – Christmas Neighbors 
8am
Jefferson – Jefferson County Fair Park – 503 N. Jackson Ave.
www.jeffersoncountyfairpark.com
920-674-4499
---
Katie Otto is a freelance writer who provides JCTC with some spectacular content and information. She's previously held the role of Secretary for the Jefferson County Tourism Council, has assembled our Monthly Newsletter and was the Executive Director for the Lake Mills Main Street Program, a non-profit community organization that is dedicated to the preservation, growth and vitality of Lake Mills through public events and active community involvement.