October 26, 2017 – Ghouls Night Out
Join us for some Halloween and costume fun! Stop by various locations uptown for some sweets and activities
4pm -7pm
Whitewater
(262) 473-4005
---
October 28, 2017 – Watertown Pumpkin Palooza
Halloween fun in historic downtown Watertown.  Main Street trick-or-treating, crafts, sidewalk games, pumpkin lighting, and more!
10am-7pm
Watertown – East Main Street
920-342-3623
---
October 28-29, 2017 – Earth, Wood & Fire Artist Tour
Prepare yourselves for new experiences in pottery, wood, textiles, painting, rural scenery, creative people, vivid culture, and big inspiration at the Earth, Wood and Fire Artists Tour from 10 am to 5 pm.  It's a self-guided driving tour.  Each artist works to present their personalities, stories, and craft to you in exciting and new ways. Now here's your chance to jostle, evolve and touch something deep inside you that can only come from brilliant, new art.
Take a ride to the gorgeous rural landscapes of Jefferson County to 20 different art studios.
10am – 5pm
Cambridge and Jefferson County, WI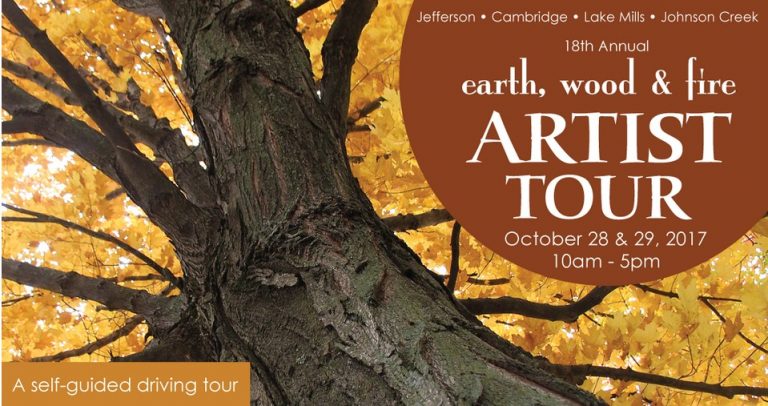 ---
October 28, 2017 – Market Masquerade
Come visit Jones Market for our Market Masquerade.  Kids make hot dog fingers in a bun, trick-or-treat and see Pork Chop's halloween costume!  Adults in costume get a free box of golden brown sausage with a $10 purchase.  Try free vendor samples, free pumpkin painting and enjoy halloween music.  Plus, participate in our pumpkin decorating contest and vote for your favorite pumpkin to support the United Way.
Purchase some delicious eats and drinks:
Old World Wieners $3
Fresh German Brats $4
Farm Grown Squash Bisque and Jones Ham and Bean Soup
Hot Cocoa and Poyer's Apple Cider
Sundae of the Month: Pumpkin Spice Sundae
Brat of the Week: Fall Brat
10am-2pm
Fort Atkinson – Jones Market – 601 Jones Avenue
920-563-2963
---
October 29, 2017 – Trick or Treat in Fort Atkinson
Kids can enjoy Trick or Treat in Fort Atkinson on Sunday, October 29 from 1-4pm.
1-4pm
Fort Atkinson
(920) 563-7760
---
Katie Otto is a freelance writer who provides JCTC with some spectacular content and information. She's previously held the role of Secretary for the Jefferson County Tourism Council, has assembled our Monthly Newsletter and was the Executive Director for the Lake Mills Main Street Program, a non-profit community organization that is dedicated to the preservation, growth and vitality of Lake Mills through public events and active community involvement.