Through October 29, 2017 – Elvis Lives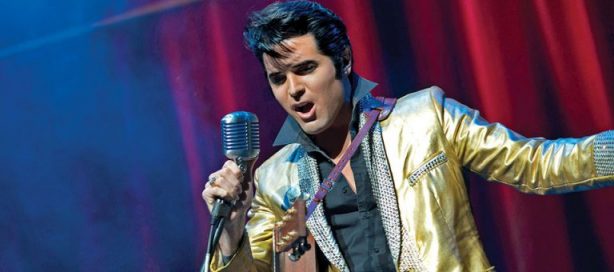 250,000 ELVIS LIVES fans can't be wrong. The King of Rock 'n' Roll lives on in an unforgettable live musical journey across Elvis' life. His iconic style, embraced by many of today's artists, continues to intrigue audiences of all generations. Featuring champions and finalists from Elvis Presley Enterprises' worldwide Ultimate Elvis Tribute Artist Contest, a live band, and exciting and talented singers and dancers; audiences "Can't Help Falling in Love" with this phenomenal theatrical concert experience.
Seven shows weekly Wednesday through Sunday.
Fort Atkinson – The Fireside Dinner Theatre – 1131 Janesville Avenue
https://www.firesidetheatre.com/
800-477-9505
---
October 1-31, 2017 – October Sundae of the Month: Pumpkin Spice
Come try Jones Market's Sunday of the Month for October – PUMPKIN SPICE! Yum!! Pumpkin Ice Cream (pumpkin flavored), Cinnamon Ice Cream (cinnamon flavored) with hot caramel, pecans, whipped cream and a cherry.
Tuesday through Saturday, 8am-6pm
Fort Atkinson – Jones Market – 601 Jones Avenue
920-691-0253
---
October 1 – 29, 2017 – Busy Barns Barnyard Adventures
It's fall and that means the fields are full of pumpkins, squash, flowering mums and lots of fall decor!
Take a hayride out to the u-pick pumpkin patch to select your perfect jack-o-lantern. Visit the animal barn to feed and hold the baby goats, view the baby animals and test your skills at hustling hogs. Launch mini-pumpkins and gourds in the launcher and conquer the 4-acre trivia corn maze.
Open weekends in October: Saturdays & Sundays from 10am-5pm.
Open weekdays in October: Tuesday, Wednesday and Thursday from 9am-2:30pm.
We look forward to seeing you this fall!
Fort Atkinson – W7675 US Hwy 12
(920) 691-6742
---
October 6, 2017 – First Friday in Fort: Nine & Dine at Koshkonong Mounds
Take in the breathtaking views overlooking Lake Koshkongong this Friday at Koshkonong Mounds during their Nine and Dine event!
Koshkonong Mounds Country Club is hosting their First Friday Nine & Dine special on October 6th. For only $50.00, play 9-hole round of golf (includes golf cart) and dine on a regular fish dinner, baked or hand breaded.
Offer is good for 2 people and tee times are available between 2:00pm to 4:30pm.
For reservations, call 920-563-2823.
2:00pm – 4:30pm
Fort Atkinson – Koshkonong Mounds Country Club – W7670 Koshkonong Mounds Road
920-563-2823
---
October 7, 2017 – Historic 1901 Water Tower Tours
1901 Water Tower Open Houses are held the first Saturday of the month (Weather Permitting). Other tours are by appointment. Please contact Tammy Doellstedt at 568-8069, or Doellstedt@sbcglobal.net to reserve your spot. Find more info at www.fortpreserves.org
Age and height restrictions apply, for those wishing to ascend the 120 steps to the viewing platform. The 1901 Water Tower is not wheelchair accessible. The tower is located at the corner of South High Street and South 4th Street. Parking available on the street or in the Fort Atkinson Middle School parking lot. Tours conducted by Fort Atkinson Historic Preservation Commission.
10am – Noon
Fort Atkinson – Corner of South High Street and South 4th Street
920-568-8069
---
Katie Otto is a freelance writer who provides JCTC with some spectacular content and information. She's previously held the role of Secretary for the Jefferson County Tourism Council, has assembled our Monthly Newsletter and was the Executive Director for the Lake Mills Main Street Program, a non-profit community organization that is dedicated to the preservation, growth and vitality of Lake Mills through public events and active community involvement.