September 14 – October 29, 2017 – Elvis Lives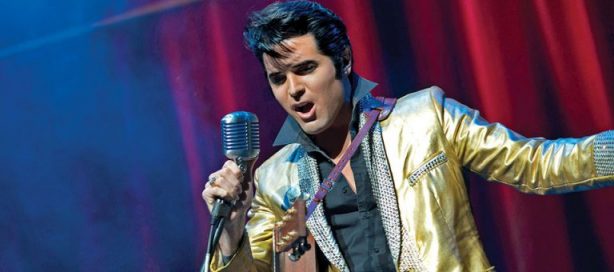 250,000 ELVIS LIVES fans can't be wrong. The King of Rock 'n' Roll lives on in an unforgettable live musical journey across Elvis' life. His iconic style, embraced by many of today's artists, continues to intrigue audiences of all generations. Featuring champions and finalists from Elvis Presley Enterprises' worldwide Ultimate Elvis Tribute Artist Contest, a live band, and exciting and talented singers and dancers; audiences "Can't Help Falling in Love" with this phenomenal theatrical concert experience.
Seven shows weekly Wednesday through Sunday.
Fort Atkinson – The Fireside Dinner Theatre – 1131 Janesville Avenue
https://www.firesidetheatre.com/
800-477-9505
---
September 14, 2017 – Watertown Wine Walk
Hurry! Hurry! Hurry! The 1st Watertown Wine Walk is open for registration. On September 14th enjoy wine, food pairings, and beautiful displays of art by local artists at each of the 12 participating locations. Only $25 per person, limited to the first 240! Price includes a wristband for one ounce of a red wine and one ounce of a white wine at each location. You also receive a map of the event with participating businesses and artist information, and raffle tickets for your chance to win a bottle of wine or restaurant gift certificates. Gather your group for a very memorable evening in historic downtown Watertown!
Register now at www.watertownchamber.com.
5:30pm-8:30pm
Watertown – Watertown Area Chamber of Commerce – East Main Street
920-261-6320
---
September 14, 2017 – Inspirations of an Art Quilter – Trunk Show and Quilt Talk
Award winning quilt artist and teacher Wendy Butler Berns will give a lighthearted quilt tour and trunk show of her work at the L.D. Fargo Public Library. Wendy is an author, artist, and teacher who appears on The Quilt Show, PBS Quilting Arts TV, and Sewing with Nancy Zieman, as well as teaching three online courses. Her quilts are noted for their bold use of color, unusual fabrics, and a combination of unconventional techniques. This program, sponsored by the Friends of the L.D. Fargo Library, is free and open to the public. Pre-registration is not necessary. For a glimpse at Wendy's quilts, visit her at www.wendybutlerberns.com.
7pm
Lake Mills – 120 E. Madison Street
(920) 648-2166
---
September 15-17, 2017 – Gemeutlichkeit Days

The best German celebration around! Check out the GDays website for all of the information, schedule of events, etc. Most of the activities will be at the Jefferson County Fairgrounds, but don't miss the parade in downtown Jefferson!
Jefferson – Jefferson County Fair Park
---
September 16, 2017 – Tyranena Oktoberfest Bike Ride
Hosted by the Tyranena Brewing Company in Lake Mills.
Lake Mills
Tyranena Oktoberfest Bike Ride
---
September 16, 2017 – City Wide Rummage Sale in Watertown
Hosted by the Watertown Daily Times.
Individual rummage sales throughout the city of Watertown.
Watertown – all over town
920-261-4949
---
September 16, 2017 – Artisan Food Tour of Watertown
Come to Watertown for a unique Artisan food experience. This is a bus tour that will take you behind the scenes of 4 locally owned artisan food producers: Kraemer Wisconsin Cheese, Berres Brothers Coffee, Mullen's Dairy Bar and Glenn's Market & Catering. You'll learn how these multi-generational businesses create hand-crafted cheese, coffee, ice cream and sausage! After an amazing behind the scenes day, join us along the Rock River for some microbrews provided by the locally-owned Sweet Mullets Brewery.  Don't delay! Space is limited for this unique artisan food experience.  Tickets can be purchased online.
5 bus departure times: 8:30am, 9:15am, 10am, 10:45am, 11:30am.
Watertown – 850 Larabee Street
https://watertownartisanfoodtour.ticketspice.com/watertown-artisan-food-tour
920-248-0868
---
September 16, 2017 – Cambridge Fall Fest
Fall in downtown Cambridge is spectacular and offers fun activities for the whole family.    Enjoy Cambridge Fall Fest on Saturday from 10 am to 3 pm in downtown Veteran's Park, 100 E. Main St. with tractor hayrides, scarecrow building, Chain saw artist live demo, live music,   bee keeping demo, face painting, and the FFA farm animal petting zoo.   The Cambridge Community Activities Program will also be conducting its annual Fun Run and Wellness Fair  in the morning at downtown West Side Park as well.
10am – 3pm
Cambridge – Cambridge Area Chamber of Commerce – 100 E. Main Street
(Veteran's Park)
608-423-3780
---
September 16, 2017 – Cambridge Fun Run & Family Health & Wellness Expo
CAP is hosting the 9th annual Fun Run and Family Health & Wellness Expo on Saturday from  10:00 a.m. to 1 pm at downtown West Side Park.  Adults, children, and families are encouraged to participate in either the 1 mile or 5 K Fun Run/Walk.
Afterwards, you can browse the Family Health & Wellness Expo booths providing information on health and wellness service providers available in Cambridge and the surrounding areas. Gain expert advice from area health and wellness practitioners and services in the fields of chiropractic, dental, recreation, medical, assisted living, spa & salon, massage, and much more. Kids activities will be available throughout the day.
Schedule of events:
10:00am
1 Mile Fun Run starts
10:30am
5 K Fun Run/Walk starts
10:00am – 1:00pm
Face Painting
11:00am – 12:00pm
Jazzercise Class Demo
12:00pm – 1:00pm
Body FIT Class Demo
10am – 1pm
Cambridge – Cambridge Area Chamber of Commerce – Westside Park –
85 S. Pleasant Street
(608) 423-8108
---
Katie Otto is a freelance writer who provides JCTC with some spectacular content and information. She's previously held the role of Secretary for the Jefferson County Tourism Council, has assembled our Monthly Newsletter and was the Executive Director for the Lake Mills Main Street Program, a non-profit community organization that is dedicated to the preservation, growth and vitality of Lake Mills through public events and active community involvement.