FARMINGTON INN
N6443 S Farmington Rd
Helenville, WI 53137
Phone:(920) 699-3725
April finds your Fish Fry review crew in Farmington, Jefferson County, Wisconsin. Just 5.3 miles east of east of Johnson Creek on Highway B, the Farmington Inn's pastoral setting means a laid-back country Inn which is much bigger on the inside than it appears from the outside.
Large picture windows abound with views of farmland as far as the eye can see. We are greeted warmly and seated immediately. Our waitress is used to requests for separate checks and efficiently gathers our drink and appetizer orders.
Our onion straws arrive and they are melt-in-your-mouth light and flavorful, with not a hint of greasiness. So good we ordered a second round.
We all ordered different fish dishes: Beer Battered Cod (moist on the inside, light and crispy on the outside,) Baked Cod (served with drawn butter,) Beer Battered Perch (huge filets that flake upon contact with the fork,) & Beer Battered Shrimp (light batter, moist and flavorful – about a dozen) were consumed. All were not just good, but prepared with great care.
For sides, the Cream of Broccoli soup was excellent, the House Salad fresh and tasty, creamy potato salad garnished with parsley quite satisfactory and the rye bread soft with plenty of butter. For $1 extra, we would suggest the sweet potato or sour cream and chive fries.
Bathrooms and all common areas were clean and well-maintained, with parking adequate.
Great food, great service and set amidst a rural paradise, you'll love the Farmington Inn.
~
Don't forget to enjoy our prior reviews and GO EAT SOME FISH IN JEFFERSON COUNTY!!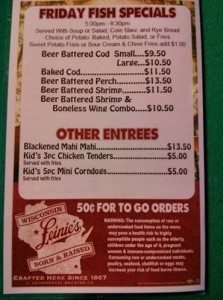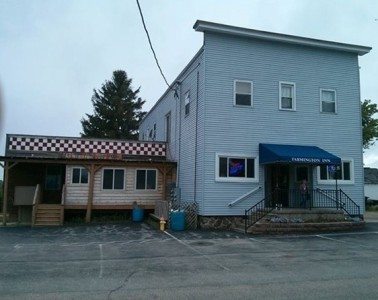 Katie Otto is a freelance writer who provides JCTC with some spectacular content and information. She's previously held the role of Secretary for the Jefferson County Tourism Council, has assembled our Monthly Newsletter and was the Executive Director for the Lake Mills Main Street Program, a non-profit community organization that is dedicated to the preservation, growth and vitality of Lake Mills through public events and active community involvement.