Mangiami iItaliano Restaurant
226 South Main Street
Fort Atkinson, Wisconsin
920-397-7790
www.mangiamiitaliano.com
"Mangiami Italiano" literally translated: "Eat Italian." To gear up for the experience, your Jefferson County Restaurant Review Crew slipped on the Gucci sunglasses after watching endless episodes of The Sopranos, entering Mangiami Italiano with the appropriate swagger.
Were we in Brooklyn? Chicago? Rome? Fugghetaboutit! Welcome to Fort Atkinson, Wisconsin.
Chef Eric & his staff have created a perfect ambiance, featuring maroon walls that seem to rise forever, tasteful paintings of the Italian countryside, subdued lighting and clean, white table settings. We are greeted and seated. Our waitress begins with a litany of specials which turn out to be "offers we can't refuse."
Soup of the Day was a Creamy Spinach Artichoke Heart & Sun-Dried Tomato creation. The artichokes tasted like the Tuscan countryside. A "cup" was a huge bowl and was enough to share with everyone. Delicioso!
Mangiami's take on the ever popular Caprese Salad alternated small, super fresh balls of mozzarella with grape tomatoes of equal size nestled with eye-popping simplicity in a porcelain boat, tossed with basil olive oil and finished with a sprig of fresh basil. The Caprese was pleasing to the eye and palate alike.
The Gorgonzola Stuffed Filet with Mushroom Orzo Entrée was grilled to perfection and presented with care and style. The little slice I purloined from my neighbor melted in my mouth with the Gorgonzola caressing, not overpowering, the dish.
Three Pastas, very different from each other, competed for the Grand Prize and all were winners.
The Paesana consists of Sausage, Sweet Peas and Mushrooms in Tomato Sauce with spiral pasta. The combination of flavors was a treat to our pasta-loving friend who ordered it.
The Pescatore – loaded with scallops and shrimp in a spicy marinara – sublime from start to finish.
The special with the most interesting title – Rags – was explained as fresh pasta torn and placed in a bowl with several fresh cheeses including gorgonzola and mozzarella, layered with tomato sauce and showered with cream. OMG!!!
For dessert, we decided to split the Tartufo – a chocolate ball of Italian Ice Cream that had walnuts mixed in. A very satisfying end to a sumptuous feast.
Hey! Go to Mangiami Italiano in Fort Atkinson. It's an offer you will accept time and time again. Ciao!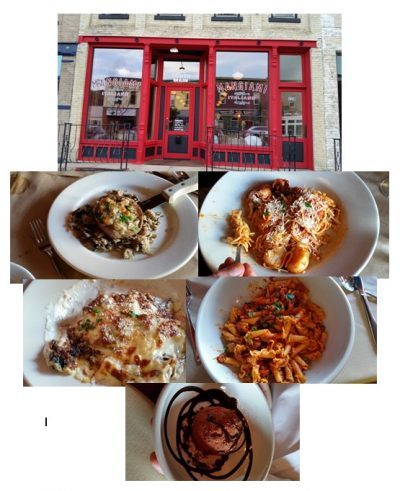 Katie Otto is a freelance writer who provides JCTC with some spectacular content and information. She's previously held the role of Secretary for the Jefferson County Tourism Council, has assembled our Monthly Newsletter and was the Executive Director for the Lake Mills Main Street Program, a non-profit community organization that is dedicated to the preservation, growth and vitality of Lake Mills through public events and active community involvement.