Plan Your Summer Fun in Fort Atkinson!
With the Safer at Home order currently in place, many people are spending time safely indoors and at home. No one can be certain when our world will return to normal and even though we aren't able to get out and do all the usual springtime activities we love, we can still look ahead to better days. And with signs of spring beginning to emerge, now is the perfect time to research warmer weather activities you can do with your friends and family!
Plan your visit to Fort Atkinson and Jefferson County to explore these fun and FREE activities:
The Mysteries of the Mounds exhibit at the Hoard Museum
This gallery at the Hoard Historical Museum contains a diorama of a Late Woodland Camp complete with a replica keyhole pit house. In addition to artifacts and text panels, this gallery contains a theater that runs a 17-minute video devoted to explaining the types of earthen mounds built a thousand years ago and earlier, across the southern half of Wisconsin.
Consider visiting this gallery, watching the video, and then venturing out to nearby Mounds sites that are open to the public. The Jefferson County Indian Mounds Park and Trail is about 10 minutes south of Fort Atkinson on the northeastern shore of Lake Koshkonong. The Effigy Mounds Preserve is located on nearby Whitewater's west side. Aztalan State Park is located about 20 minutes north off Hwy 89.
An old-fashioned community band concert and ice cream social at Barrie Park
Setting up lawn chairs and picnic blankets in Barrie Park is one of the best summer traditions. In front of the architecturally prominent band shell, you can enjoy Monday-night community band concerts and old-fashioned ice cream socials, as well as the Summer Charity Concerts on select Wednesday nights, which raise money for worthy local causes.
A tour of Fort Atkinson's historic water tower where you can see the whole county laid out before you
Come see the beautifully refurbished 1901 Water Tower. Climb the steps inside of the water tower to reach a bird's eye view of Fort Atkinson and Jefferson County. 1901 Water Tower Open Houses are held the first Saturday of the month, May-October (Weather & COVID-19 permitting).
The tower is located at the corner of South High Street and South 4th Street. Tours conducted by the Fort Atkinson Historic Preservation Commission.
A General's baseball game in Jones Park
Jones Park is home to the Fort Atkinson Generals – our own hometown talent league – and annual events like Baseball Festival. You can even still enjoy $1.00 hot dogs and drinks. What could be better: sunshine, baseball, and $1.00 hot dogs?!
A scenic hike through Dorothy Carnes Park and a leisurely ride along the Glacial River Bike Trail
Get out and enjoy the warm weather at some of our local parks and trails. Just outside of city limits is the quiet and serene Dorothy Carnes Park, a large part of which has been designated a State Natural Area. It's home to more than 50% of North American migratory waterfowl, but you can also explore the majestic oak forests, restored prairies, and savanna grasslands on several groomed trails throughout this 514-acre conservation park.
Fort Atkinson's beautiful sections of the Glacial River Bike Trail is part of the Glacial Heritage Area and runs directly through our historic downtown. You'll experience scenic views of farmsteads, prairie flowers, wetlands, woods, streams, and a rustic, red covered bridge built with recycled timber.
Local produce and fresh flowers at the Farmers Market
The summer farmers markets take place every Saturday, May through October, in the Milwaukee Avenue municipal parking lot. Shop local vendors and find all your fresh favorites!
A day spent kayaking the Rock or Bark River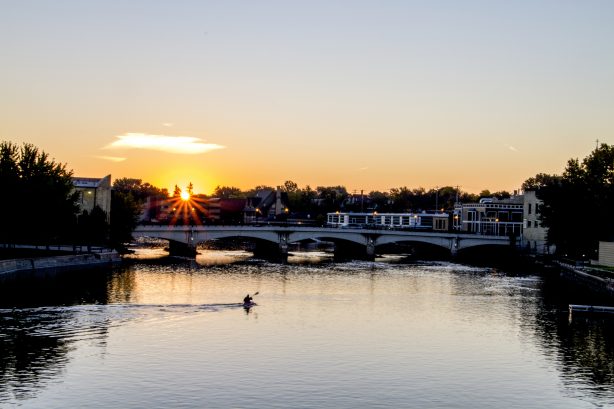 Passing right through historic downtown, take advantage of the site by fishing boat, canoe, or kayak. The meandering Bark and Rock Rivers both lead to the 10,500 acre Lake Koshkonong, where fishing and boating opportunities abound. Bring your own kayak or visit Two Rivers Bicycle & Outdoor or Rock River Bait Box to rent a kayak or canoe for a lazy ride down the river (especially beautiful at sunset!).