April 16, 2019 – Continuity of Care/Choices in Senior Living
Learn about the various choices in senior living and continuity of care options through this presentation by SSM Health at Home.
1-2pm
Fort Atkinson – Dwight Foster Public Library – 209 Merchants Avenue
920-563-7790
---
April 19-20, 2019 – Jones Market Easter Event
Get your picture with a live bunny and our Easter Bunny Pork Chop 10am-3pm
Easter Egg Hunt for the kids 10am-3pm
Enjoy our New Lunch Menu – Salad, Wrap, Cold Sandwich served daily 11am-2pm
Ice Cream – Easter sprinkles
Ham Carving Demo at 11am & Ham Sampling
20% Off Hams – boneless and bone-in, all sizes
Ham Glazing Recipes at JonesDairyFarm.com and free recipe cards in store
Enter to Win an Easter Ham winner drawn April 20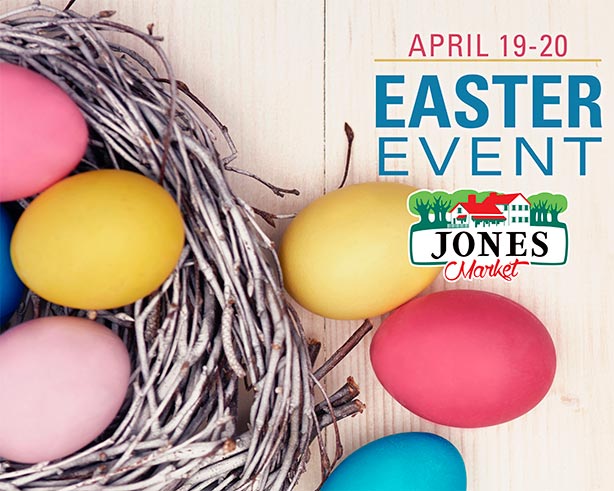 Fort Atkinson – Jones Market – 601 Jones Avenue, 10am-3pm
920-563-2963
---
12th Annual Easter Egg Hunt at Johnson Creek Outlet! Children 10 and under are invited to bring a basket and enjoy a free traditional egg hunt at Johnson Creek Premium Outlets. Plus children can enter for a chance to win one of 10 Easter Baskets. Bring your camera and visit with the Easter bunny.
The event will be held near the grassy plaza east of the Nike Clearance Store. The event event is free and open to the public.
Johnson Creek – Johnson Creek Premium Outlets – 575 Linmar Lane, 2pm
---
April 20, 2019 – Riverstone Premier Presents: Surf and Turf All Inclusive Seven Course Meal
RiverStone is excited to present a Surf and Turf All Inclusive curated seven course meal experience. This event features wine and beer during the meal service.
Join us on April 20th for this exclusive event with only 100 tickets available.
Our doors will open at 5pm
The First Course will be served at 5:30pm
SEVEN COURSE MEAL INCLUDES:
Course 1: Stuffed Prawns
Course 2: Roasted Lobster Bisque
Course 3: Poached Cod
Course 4: Bread and Marrow Butter
Course 5: Red and White endive salad
Course 6: Pheasant au vin
Course 7: Layered Chocolate Berries Vanilla Custard
PRICE INCLUDES:
Seven Course Surf and Turf curated meal
Wine and beer for two hours
Live music
Musicians will be providing a soft ambiance during dinner an a nice after dinner performance for guests to enjoy.
Hosted by Riverstone Premier Event Center, 5:00pm
Riverstone Event Center, 1905 Central Coast Ln, Fort Atkinson
815-250-4171
---
Katie Otto is a freelance writer who provides JCTC with some spectacular content and information. She's previously held the role of Secretary for the Jefferson County Tourism Council, has assembled our Monthly Newsletter and was the Executive Director for the Lake Mills Main Street Program, a non-profit community organization that is dedicated to the preservation, growth and vitality of Lake Mills through public events and active community involvement.