April 11-13, 2019 – Arsenic & Old Lace
Maranatha Baptist University in Watertown is presenting the hilarious comedy Arsenic and Old Lace by Joseph Kesselring as their mainstage production April 11-13, 2019. Shows will be a 7pm nightly, plus a 2pm Saturday matinee.
The play, which is a clever combination of the farcical and the macabre, is set in Brooklyn, NY, where two charitable elderly sisters have taken to poisoning lonely old men who come to their home looking for lodging. An unwitting accomplice to their "charitable" deeds is their delusional nephew, who fancies himself to be Teddy Roosevelt.
Tickets can be reserved at Maranatha Baptist University in Watertown, 920-206-2370
---
April 11 – May 26, 2019 – Menopause the Musical
COME JOIN OUR SISTERHOOD! Four women at a lingerie sale have nothing in common but a black lace bra and memory loss, hot flashes, night sweats, and more! This hilarious musical parody set to classic tunes from the 60's, 70's, and 80's will have you cheering and dancing in the aisles! See what audiences worldwide have been laughing about for over 16 years!
Nearly 11 million people in 13 countries (more than 350 cities) have enjoyed this unique theatre experience. AND MEN LOVE IT, TOO! Men in the audience can relate and understand this time in the lives of their wives, sisters or mothers. Winner of multiple awards around the world, MENOPAUSE THE MUSICAL is a theatrical experience not to be missed!
Seven shows weekly Wednesday through Sunday.
Fort Atkinson – The Fireside Dinner Theatre – 1131 Janesville Avenue, 800-477-9505
---
April 11, 2019 – Travel to Yellowstone National Park
Discover the beauty of Yellowstone National Park through the camera lens of Fort Atkinson resident David Covey. Over the last 30 years, Covey and his wife have annually returned to Yellowstone, hiking with naturalists and taking class tours from the Yellowstone Forever Institute. Upon retirement they work seasonally for Yellowstone Forever, an official non-profit partner of Yellowstone, affording them time to experience even more adventures in the Greater Yellowstone Ecosystem. This presentation will feature many of David's amazing photographs.
6:30 p.m.
Fort Atkinson – Dwight Foster Public Library – 209 Merchants Avenue, 920-563-7790
---
April 12, 2019 – Cambridge Spring Girls Night Out
Grab your girls and get ready for an evening of fun!
Cambridge Girls Night Out features an entertaining evening of gifts, in-store specials, a wine walk, tasty treats, and fantastic prizes – all centered around Cambridge's beautiful historic Main Street.
Only 150 tickets are available for this events, so get your Girls Night Out tickets today!
Your Girls Night Out ticket includes a "Benefit Bag" (which will get you a free gift from each participating business) and a Girls Night Out Passport. Visit each participating GNO business to get your Passport stamped and you'll be entered into drawings for fabulous raffle prizes and a grand prize drawing at the Girl's Night Out After Party.
Girls Night Out at a Glance:
Girls Night Out kicks off with ticket holders picking up their Benefit Bag and Official GNO Passport at the Cambridge Area Chamber of Commerce Office (102 W. Main St, Cambridge) anytime between 5-7pm the night of the event.
GNO attendees walk up and down Main Street (5-9pm) with their Benefit Bags and Official GNO Passports, visiting each participating business listed in the Passport. Attendees who fill their Passports with stamps from every participating location are entered into a drawing for free prizes at the Girls Night Out After Party.
Attendees collect free gifts from each participating business either already placed in their Benefit Bag at pick up, or while visiting each location. Attendees also enjoy a "wine walk" – sipping complimentary wine samples while visiting participating businesses.
Attendees then head to the Girls Night Out After Party for additional refreshments, fantastic giveaways, and a grand prize drawing! Drawings start at 9:15 at the After Party and you must be present to win.
(Even without a "benefit bag" you are still welcome to enjoy the store specials from 5-9pm and an evening of fun!).
Cambridge Chamber of Commerce, 608-423-3780
Downtown, 5-9pm
---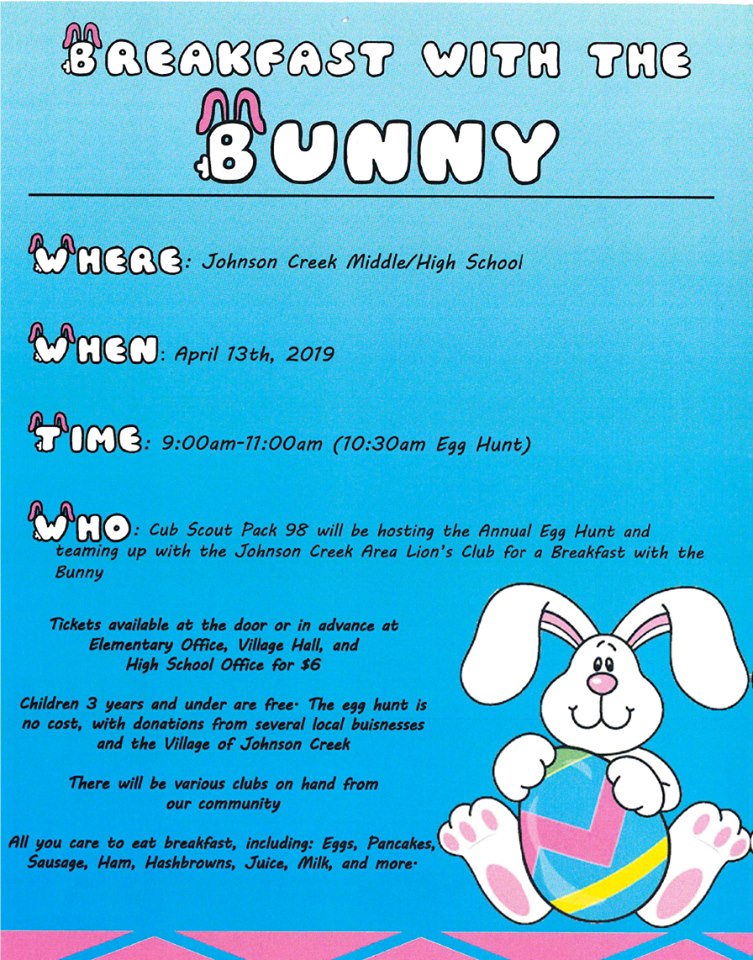 April 13, 2019 – Breakfast with the Bunny & Community Egg Hunt
Join the Johnson Creek Area Lions Club for Breakfast with the Bunny at the Johnson Creek High School Cafetorium. Then join local Cub Scout Troop Pack 98 for a hosted egg hunt. Breakfast is $5 early registration, $6 a the door. Egg hunt is free.
Hosted by Johnson Creek Area Lions Club and Cub Scout Troop Pack 98
9-11am
Johnson Creek – Johnson Creek High School Cafetorium
Village of Johnson Creek
---

April 13, 2019 – The Close Encounters Man: Meet author Mark O'Connell
Mark O'Connell, a writer for popular science fiction shows like Star Trek and movies for Disney, DreamWorks, and more, will discuss his book The Close Encounters Man: How One Man Made the World Believe in UFOs. This program is sponsored by the Friends of the Library.
1-2pm
Fort Atkinson – Dwight Foster Public Library
209 Merchants Avenue, 920-563-7790
---
April 13, 2019 – Fort Atkinson Easter Egg Hunt
Join us Saturday, April 13th at Jones Park for the 17th Annual Easter Egg Hunt sponsored by: Fort Atkinson Parks & Recreation Department, Verlo Mattress Factory of Fort Atkinson, and the Fort Optimist Club. The Hunt starts at 9am.
Kids ages 1-8 are able to participate. We also have an adult hunt that will start at 9:30 am. Each participant is allowed 10 eggs.  
Hosted by Fort Atkinson Parks and Recreation, 9am
Fort Atkinson – Jones Park – 615 Janesville Avenue, 920-563-7781
---
April 14, 2019 – Breakfast with the Easter Bunny
All you can eat pancakes, with eggs, sausage, hash browns, juice, milk, and coffee!
Adults $7.00, Kids (5-11) $5.00
Hosted by Jefferson Lions, 8am-12pm
VFW Hall – 1420 S. Main Street, Jefferson
---
Katie Otto is a freelance writer who provides JCTC with some spectacular content and information. She's previously held the role of Secretary for the Jefferson County Tourism Council, has assembled our Monthly Newsletter and was the Executive Director for the Lake Mills Main Street Program, a non-profit community organization that is dedicated to the preservation, growth and vitality of Lake Mills through public events and active community involvement.
Katie Otto

https://enjoyjeffersoncounty.com/author/katie-otto/

Katie Otto

https://enjoyjeffersoncounty.com/author/katie-otto/

Katie Otto

https://enjoyjeffersoncounty.com/author/katie-otto/
Arsenic and Old Lace, author, breakfast with the Easter Bunny, Cambridge Spring Girls Night Out, dinner theater, Easter bunner, Easter egg hunt, Easter events, egg hunt, Fireside Dinner Theatre, girl's night out, library programs, Maranatha Baptist University, Mark O'Connell, Menopause the Musical, musical, The Close Encounters Man, Yellowstone National Park
Event News
/
Latest News