August 17, 2016 – Fort Atkinson Summer Charity Concerts
Bring your lawn chair, pack a picnic basket, and enjoy an evening with friends for concerts in the park featuring Euphoria and Alter Boy Picnic.
Held Wednesday evening during the summer at Barrie Park Band Shell, an outdoor music venue for the community, for a total of six concerts all for a charitable cause.
Funds raised are donated to Boys & Girls Club of Fort Atkinson and applied to the Fort Atkinson Charity Concert scholarship which supports students who have shown a commitment to their communities.
6pm-9pm
Fort Atkinson – 210 Robert Street
---
August 20, 2016 – BUZZ FEST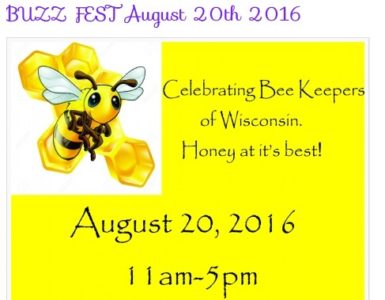 This is a celebration for the agricultural industry of honey. This is Wisconsin's 1st honey festival in the state. Buzz Fest is hosted by Vetro Winery and the Beekeeper's Association of Wisconsin. Honey will be for sale and various honey related items. We will have bee hives (contained) on display. Beekeeping supplies and entertainment for all ages.
11am-5pm
Jefferson – Vetro Winery – 1414 Vino Lane
920-674-9650
---
August 20, 2016 – Farmer-to-Table Harvest Dinner 
---
August 21, 2016 – 30th Annual Tour de Fort Metric Century Bike Ride
Join us for the 30th Annual Tour de Fort Metric Century. New scenic route through Jefferson, Rock and Walworth Countries, featuring beautiful Whitewater Lake Loop.
Metric Century Course (63 mile) with a Half-Metric Century (36 mile) and Quarter-metric Century (18 mile) options. All on paved, scenic and enjoyable roads.
General Mass start at 8:30 a.m. for all bikers from Jones Park at the corner of Janesville Ave and Park Street on Fort's South side. Look for Lions Club Chicken Feed Tent!
"Breakfast Treats" before you start the ride.
Rest Stops with refreshments and a lot of good biking food! Please keep in mind that rest stops will have cut-off times.
Detailed maps and very well-marked routes. You'd have to try real hard to make a wrong turn.
One ticket to the Lions Club Chicken and Corn Feed. Boy, will all the corn you can eat taste good after all you've been biking!
Great support!
Please Note: Helmets are required. No refunds! Ride will be held rain or shine, come "heck" or high water.
Corn and Chicken Dinner includes chicken, rolls & butter, coleslaw, beverage, ice cream, and ALL YOU CAN EAT CORN!
Starts at 8:30am
Fort Atkinson – Jones Park – 615 Janesville Avenue
www.e-clubhouse.org/sites/fortatkinson
(920) 222-9127
---
August 21, 2016 – Try Cambridge Tri-Triathlon
This sprint-distance triathlon guides participants down the shores of Lake Ripley, along scenic country roads and through beautiful downtown Cambridge. The event will start and end at Ripley Park, an 18-acre, beachfront park complete with restrooms, showers, multiple shelters, disc golf course, playground, and much more! Athletes receive a medal and t-shirt for participation. Awards will be given for first, second, and third place in each race category.
Times to be decided.
Cambridge – Ripley Park – N4310 Park Road
www.cambridgecap.net
608-423-8108
---
Katie Otto is a freelance writer who provides JCTC with some spectacular content and information. She's previously held the role of Secretary for the Jefferson County Tourism Council, has assembled our Monthly Newsletter and was the Executive Director for the Lake Mills Main Street Program, a non-profit community organization that is dedicated to the preservation, growth and vitality of Lake Mills through public events and active community involvement.