August 25, 2016 – Brew with a View
Enjoy a meal and a brew in beautiful Korth Park on Thursday, August 25. Music by Hearthfire. Food by Flying Cow Pizza, El Gritto Taqueria as well as melted grilled cheese sandwiches.
---
August 27, 2016 – Walking Tours of Historic Fort Atkinson
Join the Hoard Historical Museum as they host historic walking tours of downtown Fort Atkinson in conjunction with the downtown Saturday Farmer's Markets.
This walking tour will highlight the structures and people who helped build Fort Atkinson. Walking tours will explore the buildings and area around the downtown section of Fort Atkinson.  All of the walking tours will begin and end at the Saturday Farmer's Market in Fort Atkinson, and last 30-40 minutes.
Tours begin at 8am and run on the hour until the end of the market at noon. Participants should be prepared to walk approximately 1 mile over paved surfaces.
As an added bonus, walkers can get their walking tour card stamped and to receive $2 off a purchase from the Fort Farmer's Market, valid on the day of the tour.
Come to a walking tour to find out more!

Scheduled walking tours are:
Saturday, August 27 from 8am – noon
Saturday, September 24 from 8am – noon
Saturday, October 15 from 8am – noon
8am – 12pm
Fort Atkinson – 401 Whitewater Ave
(920) 563-7769
---
August 27, 2016 – Rhythm on the River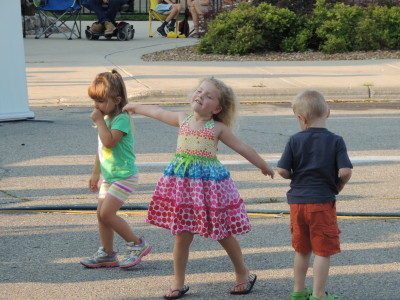 Join us for an end-of-summer social celebration at the annual Rhythm on the River along the Rock River in downtown Fort Atkinson. Enjoy a "Taste of Fort" with good food by local food vendors, live musical entertainment by Mr. Burgundy and the Zac Matthews Band, dancing and fun. Free admission to the public.
5:00pm – midnight
Fort Atkinson – Fort Atkinson Area Chamber of Commerce
Located in the Fort Atkinson municipal parking lot across from the U.S. Post Service Office between South Water Street East and East Milwaukee Avenue along the river
(920) 563-3210
---
August 31, 2016 – Summer Charity Concert
Bring your lawn chair, pack a picnic basket, and enjoy an evening with friends for concerts in the park featuring Three Thin Dimes and The Madpolecats.
Held Wednesday evening during the summer at Barrie Park Band Shell, an outdoor music venue for the community, for a total of six concerts all for a charitable cause. Funds raised are donated to Boys & Girls Club of Fort Atkinson and applied to the Fort Atkinson Charity Concert scholarship which supports students who have shown a commitment to their communities.
6pm-9pm
Fort Atkinson – 210 Robert Street
---
Katie Otto is a freelance writer who provides JCTC with some spectacular content and information. She's previously held the role of Secretary for the Jefferson County Tourism Council, has assembled our Monthly Newsletter and was the Executive Director for the Lake Mills Main Street Program, a non-profit community organization that is dedicated to the preservation, growth and vitality of Lake Mills through public events and active community involvement.