December 11, 2014 – In Herriot's Shadow 
The Jefferson Library will host local Lake Mills author Bill Stork. Bill will be talking about his new book, "In Herriot's Shadow", a compilation of stories about his journey as a veterinarian. Copies of the book will be available for sale. Refreshments will be served and door prizes awarded.
6:30 pm
Jefferson – Jefferson Public Library, 321 South Main Street
920-674-7733 ext. 3
www.councilfortheperformingarts.org/
920-674-2179
---
December 13, 2014 – Tyranena Ladies Club "Breakfast with Santa"
Enjoy a wonderful breakfast and a visit from Santa.  Held at the American Legion Post 67.
9am to 10:30am
Lake Mills
---
December 13, 2014 – The Nutcracker 
Warm memories often begin with holiday traditions, and Tchaikovsky's most famous ballet, "The Nutcracker", is performed annually at Young Auditorium by accomplished dancers from The Dance Factory. This delightful production features talented area youth, gorgeous costumes, lavish backdrops, and talented dancers. The Nutcracker Ballet is based on the story "The Nutcracker and the King of Mice" written by E.T.A. Hoffman. It's the story of a young German girl who dreams of a Nutcracker Prince and a fierce battle against a Mouse King. Enjoy this lively performance of the classic tale!
Two performance times: 2 p.m. & 7 p.m.
Whitewater – Young Auditorium, 930 West Main Street
(262) 472-2222
---
December 13, 2014 – Visit with Santa at Johnson Creek Premium Outlets 
Santa will be at Johnson Creek Premium Outlets ready to listen to children's wishes. He will be strolling the center and sitting in his chair near the information center from 1-4 p.m. All are welcome to come and visit with Santa. Parents are encouraged to bring their cameras.
1-4pm
Johnson Creek – Johnson Creek Premium Outlets, 575 W. Linmar Lane
www. premiumoutlets.com/johnsoncreek
(920) 699-4112
---
December 13, 2014 – 25th Annual Holiday Parade
Downtown Waterloo is the place to be for the 25th Annual Holiday Parade! Donations to the Food Pantry (money or food) is highly encouraged.
Parade at 4:30pm; followed by events at the VFW hall (free pictures with Santa, free milk and cookies, free coffee and hot chocolate, parade awards, 50/50 raffle and an auction).
4:30pm
Downtown Waterloo
---
December 13, 2014 – Lake Mills Winter Market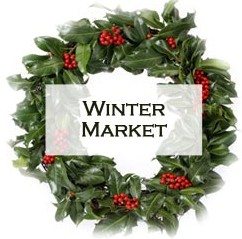 The 4th annual Lake Mills Winter Holiday Market will be held at the Lake Mills Middle School, 318 College Street, on Saturday, December 13 from 9am to 3pm.
The Winter Holiday Market pairs popular summer Farmers' Market vendors with exceptional art and craft vendors, including many from our popular summer Arts Festival.
A wide variety of products, ranging from wonderfully scented soaps and candles and a variety of Christmas items will be available. You will also find alpaca, knitted afghans and baby blankets, wool winter hats and scarves, handmade jewelry, custom-created signs, a wide variety of clothing and accessories, hair bows, tutus, custom-made American Girl doll clothing, wildlife photography, metal art sculptures, fine wood products, pottery, original prints and water colors, quilts, fused glass, hand-painted scarves and stuffed animals, just to mention a few of the artisan items.
Farmers' Market items include Angus beef, chicken and lamb, apples, honey and maple syrup, a variety of cheese and cheese curds, breads and delicious baked goods (pies, cookies, quick breads, stollen), salsa and relish, and jams and preserves.
Live holiday music will be performed by the Lake Mills City Band from 11am-12pm, and by the Chamber Strings from 12:30-1:30pm.
9am – 3pm
Lake Mills – 318 College Street
920-648-6721
---
Katie Otto is a freelance writer who provides JCTC with some spectacular content and information. She's previously held the role of Secretary for the Jefferson County Tourism Council, has assembled our Monthly Newsletter and was the Executive Director for the Lake Mills Main Street Program, a non-profit community organization that is dedicated to the preservation, growth and vitality of Lake Mills through public events and active community involvement.