December 8, 2015 – A Christmas Carol
Charles Dickens' well-loved classic tale has returned to the stage in Maranatha Baptist University's production of A Christmas Carol.
Jeff Miller portrays Ebenezer Scrooge, who is visited by the Ghosts of Christmas Past, Present and Future and is given a "chance and hope of escaping his fate." The case of more than 45 includes actors from the Watertown community as well as Maranatha Baptist University students.
Director Christina Miller shares: "We've adapted the script, overhauled the costumes, and redesigned the set. We are also using technology to create exciting special effects for the piece. Essentially, this production will be unlike any of the previous productions that we have done her at MBU."
A Christmas Carol will be showing December 8, 10, 11, and 12 at 7pm, with a matinee showing on December 12 at 2pm.
Tickets are currently open to the public: adults $10, students (college age and below) $8.50, and senior $7.50. Childcare is not provided.
For ticket reservations, call Guest Relations (920-206-2370) from 1-4pm Monday through Friday. Tickets may be reserved with cash, check, VISA or MasterCard.
Watertown – Maranatha Baptist University
---
December 11, 2015 – An Irish Christmas
The Kerry Dance Troupe, as seen on PBS, was established with the intention of promoting and celebrating Irish culture and its rich traditions through dance. This troupe blends various aspects of Irish folk-dance with old and modern Irish dance styles, exposing audiences to the beauty, value, passion and uniqueness of traditional Irish ways that play such an important part in the life of the community. This production showcases several Irish dance traditions for the holidays.
DINING OPTION AVAILABLE @ 6:00 p.m.
Visit our website for menu and ticket information
7:30pm
Whitewater – Young Auditorium – 930 West Main Street
www.uww.edu/youngauditorium/season/irish-christmas
Box Office: 262-472-2222
---
December 12, 2015 – Tyranena Ladies Club "Breakfast with Santa"
Enjoy a wonderful breakfast and a visit from Santa.  Held at the American Legion Post 67.
9am to 10:30am
Lake Mills Chamber of Commerce, Lake Mills, WI 53551
---
December 12, 2015 – Lake Mills Winter Market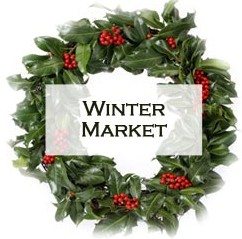 If you're already counting the days until the Lake Mills Farmers' Market opens up in May, never fear – we have just the event to tide you over!
Some of your favorite Lake Mills Farmers' Market vendors will gather on Saturday, December 12 for our annual Winter Market. The Commons and Gymnasium of the Lake Mills Middle School (381 College Street) will be bursting with food products, jewelry, scarves, rugs and other crafts. You'll be able to stock up on kettle corn, fudge, and honey. You will find a wide variety of items, with over 100 vendors at this great show. Live music, hot food and more will be available.
The number of participating vendors continues to grow each year!
Enjoy holiday music all day, from live groups to popular recordings.
If you are going to the Tyranena Ladies Club Breakfast with Santa at the Legion that morning, don't forget to bring the family to the Lake Mills Middle School and enjoy the Winter Market afterwards!
9am – 3pm
Lake Mills – 318 College Street
920-648-6721
---
December 12, 2015 – Waterloo Holiday Parade
Parade starts at 4:30pm on Saturday, December 12 in downtown Waterloo. The theme this year is North Pole Fantasy. Enjoy a Meet & Treat after the parade at the Waterloo VFW building where you will find FREE cookies, hot chocolate and coffee. There will also be an auction with the proceeds going to the Waterloo/Marshall food pantry.
Santa will be there to meet up with all of the little (and not so little!) boys and girls. Bring your cameras – it's a great photo op!
4:30pm
Waterloo – downtown
---
Katie Otto is a freelance writer who provides JCTC with some spectacular content and information. She's previously held the role of Secretary for the Jefferson County Tourism Council, has assembled our Monthly Newsletter and was the Executive Director for the Lake Mills Main Street Program, a non-profit community organization that is dedicated to the preservation, growth and vitality of Lake Mills through public events and active community involvement.