February 13, 2015 – Rock Lake Activity Center Casino Night 
Join us for a night of fun, food and gaming! Price includes hors de oeuvres, two drink tickets, and $500 of play money. Throughout the evening, there will be silent auctions and door prizes. Following the gaming, there will be a live auction. All proceeds benefit the Rock Lake Activity Center.
6:30-11:30pm
Lake Mills – 229 Fremont Street
920-945-0156
---
February 14, 2015 – 10th Annual Dip for Dozer Plunge into Lake Ripley 
The Dip for Dozer is one of Cambridge's most loved and fun events.  Take a dip into frozen Lake Ripley in the middle of winter for a great cause!  Dress up in your favorite themed costume and jump with friends. The day starts with turkey bowling, Kites on Ice & Ice Sculpting at 11am, then the Dipping & Dipper Costume Contest at 1pm.  Dip Awards, Raffles, Food & Music at Rockdale Bar & Grill at 4 pm in downtown Rockdale.  This event is always held the second Saturday in February.
10th Annual Dip for Dozer
Saturday February 14, 2015
Lake Ripley Park, Cambridge WI
Dozens of Dippers jump in the lake to raise funds and have fun in this annual Cambridge tradition.
Dip registration and events begin at 11am. Dipping starts promptly at 1pm. Events on the ice include:
Ice Sculpting
Turkey Bowling
Kites on Ice
Costume Contests
Hot Food and more!
Raffles begin at 3pm at Rockdale Bar & Grill, along with prizes for the most Dip pledges raised and the Dip costume contest. Live music starts at 7pm.
Additional information and resources:
Minimum pledges are requested in order to Dip: $52.00 for individuals, $352.00 for teams (maximum of 4 people). Team pledges must be turned in collectively by team captain. Make checks payable to DOZER 52 FOOTBALL SCHOLARSHIP FUND. Proceeds from the Dip for Dozer benefit The Dozer 52 Football Scholarship Fund, a non-profit fund of the Cambridge Athletic Booster Club for the purpose of providing post-secondary scholarships to Cambridge High School Football players.
Download registration forms, etc. on the website.
Cambridge – Lake Ripley Park, N4310 Park Road
608-423-3241
---
February 14, 2015 – Vacation in Paradise 
The Jefferson Rotary club would like to invite you to a wonderful Valentine's Day event and a chance to win a dream vacation. Come out, have a great time and help grow the quality of life in our community.
Prizes:
1st Prize
Caribbean Cruise or $2,500 Cash
2nd Prize
A Week at Fox Hills Resort
3rd & 4th Prize
One night stay at the Crowne Plaza, Dinner Included ($200 value each)
5th Prize
B.E. Hive Couple's Massage
6th & 7th Prize
Romantic Dinner for Two
We all need to do something very special for our better half on Valentine's Day. This year the Rotary Club of Jefferson is proud to offer this wonderful early evening event. "Island Food" and Caribbean Music (think Jimmy Buffet with a steel drum), beer tasting, wine tasting and a silent auction.
Drawings every half hour. You don't need to be present to win but you do need to be present to eat and drink, FREE!!
4pm-7pm
Jefferson Area Business Center, The Old Woolen Mill in the Jefferson Area Business Center, 222 Wisconsin Dr., Jefferson, WI
920-674-9000
---
February 14, 2015 – The Diamonds 
What do three Gold Records, 33 appearances on American Bandstand, the American Graffiti soundtrack, the Happy Days soundtrack, the Vocal Group Hall of Fame, and the Doo-Wop Hall of Fame have in common? They all feature The Diamonds! In 1957, The Diamonds released an instant million selling hit, Little Darlin'. Through the years they have learned about the durability of classic rock and roll music and continue to perform in a variety of venues worldwide.
Get carried away this Valentine's Day with their music!
DINING OPTION: Menu and ticket information is available on our website. Cost: $18.00
7:30pm
Whitewater – Young Auditorium – 930 West Main Street
Box Office: 262-472-2222
---
February 19, 2015 – Dallas Brass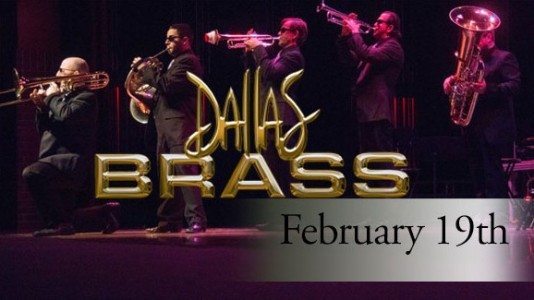 Since its founding in 1983 by Michael Levine, Dallas Brass has become one of America's foremost musical ensembles. The group has established a unique blend of traditional brass instruments with a full complement of drums and percussion, which creates a performing entity of extraordinary range and musical challenges. Their repertoire includes classical masterpieces, Dixieland, swing, Broadway and Hollywood hits.
Soundbites pre-show discussion (optional) at 6:30pm
7:30pm
Whitewater – Young Auditorium – 930 West Main Street
Box Office: 262-472-2222
---
Katie Otto is a freelance writer who provides JCTC with some spectacular content and information. She's previously held the role of Secretary for the Jefferson County Tourism Council, has assembled our Monthly Newsletter and was the Executive Director for the Lake Mills Main Street Program, a non-profit community organization that is dedicated to the preservation, growth and vitality of Lake Mills through public events and active community involvement.