February 26-April 19, 2015 – The Wizard of Oz 
Over ten generations have grown up loving this classic tale of an enchanted land. Now The Fireside brings you an exciting stage adaptation of this legendary musical. It's all there – the good witch, wicked witch, cowardly lion, tin man, scarecrow, and the young girl from Kansas in search of home. It's a show for the entire family filled with eye-popping costumes, rib-tickling humor, breath-taking adventure, and an immortal musical score including the favorite hit song "Over the Rainbow."
Seven shows weekly Wednesday through Sunday
Fort Atkinson – 1131 Janesville Avenue
800-477-9505
---
February 28, 2015 – Cambridge Arts Council Gala-Speakeasy Spectacular 
On Saturday February 28th, The Cambridge Arts Council presents their 3rd annual festive night out, in celebration of the arts. Come meet and mingle with  our local artists, enjoy live music, appetizers and wine at the former Zen Gallery, 210 W. Main St.
Doors Open: 7:00pm
Live Auction:  9:00pm
Cambridge – 210 West Main Street
(608) 423-3780
---
February 28, 2015 – Calling All Jitterbugs! Dancing With Class Family Workshop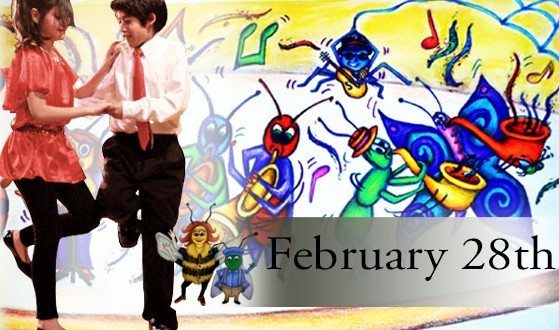 Clap and dance along at this interactive family story time and movement workshop! Learn the dance steps that go along with the new book, Jitterbugs! by Margot Toppen and illustrated by Karen Light, two Chicago area teaching artists. Jitterbugs! is an exciting picture book that will entertain children ages 2-10 with its scat rhythm under-tone and fast-moving story about two very different bugs who triumph through their unlikely dance partnership.
The story Jitterbugs! is inspired by real-life 1930s Lindy Hop dancers George Snowden ("Shorty George") and Beatrice Gay ("Big Bea") who used their height difference to their advantage to win contests at places like the famed Savoy Ballroom in Harlem, New York. This dance-along story re-casts George and Bea as adorable and engaging "Jitterbugs." Young children and their families will love to dance along with the bugs in this fully interactive family dance workshop, while discovering that moving together can be a fun and healthy family activity. PLUS you'll be treated to a special "swingin'" performance by local youth.
3:00pm
Whitewater – Young Auditorium – 930 West Main Street
Box Office: 262-472-2222
---
Katie Otto is a freelance writer who provides JCTC with some spectacular content and information. She's previously held the role of Secretary for the Jefferson County Tourism Council, has assembled our Monthly Newsletter and was the Executive Director for the Lake Mills Main Street Program, a non-profit community organization that is dedicated to the preservation, growth and vitality of Lake Mills through public events and active community involvement.