Through February 21, 2016 – Legends in Concert
Imagine seeing not one, not two, but SIX of the biggest acts in show business in one great performance! When we talk about big acts, we mean BIG. We're talking about artists that have gone well beyond the designation of superstar. We're talking about LEGENDS! Carrie Underwood, Neil Diamond, Elton John, Buddy Holly, Whitney Houston, Elvis Presley. Now you can see these great stars re-created live on the Fireside stage!
Fort Atkinson – Fireside Dinner Theatre – 1131 Janesville Ave
800-477-9505
www.firesidetheatre.com 
Seven shows weekly Wednesday through Sunday
---
February 5-6, 2016 – Knickerbocker Ice Festival
Who is ready for a little winter fun? The annual Knickerbocker Ice Festival in downtown Lake Mills has it all. Trivia Contest, candlelight ski event, ice golfing on Rock Lake, a fisheree, chili contest, skating and family games in Commons Park, ice sculptures throughout the downtown area – it's the perfect recipe for Cabin Fever!
Go to the Lake Mills Main Street Program event page to find out all of the details. Come and participate in the events, or come to watch those who do!
7pm-10pm Friday, 2/5
6am-6pm Saturday, 2/6
Lake Mills – Lake Mills Main Street Program, 200 Water Street
920-648-6721
---
February 5, 2016 – Jack & the Beanstalk (Florentine Opera)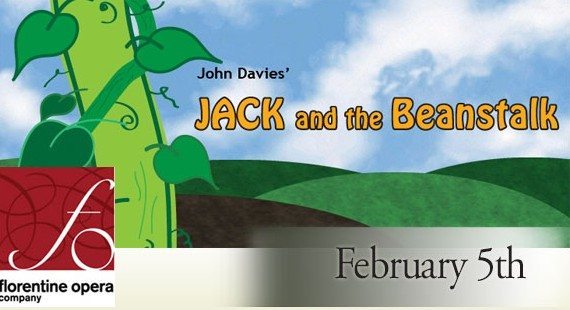 Fee-fi-fo-fum! It's the opera you can enjoy in your PJs! Children are encouraged to wear their pajamas and snuggle in for a fairytale of operatic proportions. Jack and the Beanstalk tells the classic tale of a young boy who sells the family cow to a mysterious stranger for a handful of magic beans. Presented by the Florentine Opera Company, hilarity and adventure ensue as the cast learns the importance of being kind to others.
Adapted and written by John Davies, this operatic version is based on scenes from the operettas of Gilbert and Sullivan. The opera is sung in English. The show is set to last about an hour, and seating is right on the auditorium stage. Children will have the opportunity ask the performers questions after the show and tour the set. The Florentine Opera Company is Wisconsin's oldest fully professional performing arts organization and the sixth oldest opera company in the United States.
6:30 p.m.
Whitewater – 930 W Main Street
262-472-2222
---
February 6, 2016 – Candlelight Hike through the Woods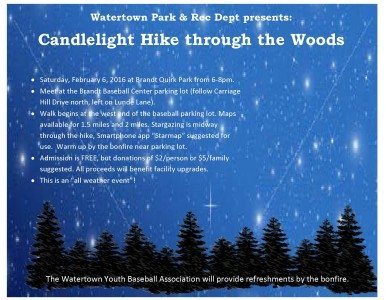 Saturday, February 6, 2016 at Brandt Quirk Park – Watertown
6:00 pm – 8:00 pm
Maps available for 1.5 and 2 mile hikes.
Stargazing is midway through the hike, Smartphone app "Starmap" is suggested for use.
6pm – 8pm
Watertown – 800 Carriage Hill Dr.
920-262-8080
---
February 6, 2016 – Mini-Winter Farmers' Market
A variety of market vendors provide shoppers with local meats, greens, honey, bread, cheese, baked goods, jewelry, knit items and more.
9am-12pm
Fort Atkinson – Fort Atkinson Club – 211 S. Water Street East
www.fortchamber.com
920-563-3210
NOTE: The Mini-Winter Farmer's Market will repeat on March 5 and April 9!
---
February 6, 2016 – Fort Healthy Health & Wellness Expo
Get pumped! Community Wellness coalition Fort Healthy is holding its 2nd Annual Health and Wellness Expo on Saturday, February 6th from 10am-2pm at the Fort Atkinson High School. Join them for food, fun and education from local businesses. Free and open to the public.
10am-2pm
Fort Atkinson – Fort Atkinson High School – 925 Lexington Blvd
Contact information:
Fort Healthcare – 611 Sherman Avenue East
https://www.facebook.com/FortHealthy?_rdr=p
920-568-5000
---
February 6, 2016 – Fort Atkinson Drift Skipper Snowmobile Radar Run

Watch or join in on the excitement at the Fort Atkinson Drift Skipper Snowmobile Radar Runs along frozen Lake Koshkonong. Trophies for first and second place, fastest speed of the day, and cash raffles!
Registration starts at 9am.
Run is from 10:30am-2:30pm
Fort Atkinson – Sunset Bar – W7905 High Ridge Road
920-563-5702
---
Katie Otto is a freelance writer who provides JCTC with some spectacular content and information. She's previously held the role of Secretary for the Jefferson County Tourism Council, has assembled our Monthly Newsletter and was the Executive Director for the Lake Mills Main Street Program, a non-profit community organization that is dedicated to the preservation, growth and vitality of Lake Mills through public events and active community involvement.