February 9, 2013 – Dip for Dozer Plunge into Lake Ripley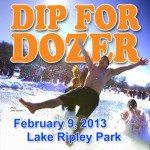 The eighth annual Dip for Dozer is scheduled for Saturday, February 9 at Lake Ripley Park in Cambridge. This is a fundraiser to benefit the Dozer 52 Scholarship Fund. Join in the fun by forming a team to take the ice cold plunge. Other fun activities: turkey bowling, Kites on Ice and Ice Sculpting at 11am and Dipping Costume Contest at 1pm. Awards, raffles, food and music at the Rockdale Bar at 4pm.
Sponsored by the Badger Bank.
Cambridge – Ripley Park – (608) 423-3241
www.cambridgewi.com
---
February 9, 2013 – Kurt's Place Outhouse Races
Come and participate in the First Annual Outhouse Race, held in honor of Kurt May, beloved barkeep and outhouse racer. Don't be a party-pooper…enter your team today!!
Build an outhouse of wood, cardboard, old car parts, etc.
Install a toilet seat and a roll of toilet paper.
Mount it on skis or runners – no metal allowed though!
Two team members push it to win!
Proceeds benefit the Dozer 52 Football Scholarship Fund.
Cambridge – Kurt's Place – 110 East Main Street
(608) 423-2217 – www.cambridgewi.com
---
February 9, 2013 – Cambridge Frosty Frolic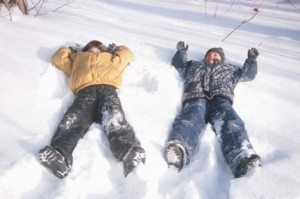 Join Cambridge for their big winter festival celebration of winter fun! The day starts out with CAP's Get Out & Play Snow Day events, including FREE snow shoeing, cross country skiing, skating and sled rentals, plus cookies and cocoa at Westside Park.
The fun continues at the annual Dip for Dozer plunge for charity, and the Outhouse Races at Kurt's Place.
See calendar entries above AND the first article in this newsletter for additional information.
Cambridge – www.cambridgewi.com
---
February 9, 2013 – Valentine's Day in Paradise
Join your friends for food, fun, exotic wines and beers! Win a vacation of a lifetime! Saturday, 2/9 from 4-7pm. A Jefferson Rotary event.
One ticket buys you:
free island food
Caribbean music
sampling of exotic high quality wines and beers from around the world
prize drawings made every half hour
See the website for additional information.
Jefferson – Jefferson Area Business Center – 218 Wisconsin Drive
www.jeffersonwirotary.com/ValentinesDayInParadise.aspx
---
February 10, 2013 – Rumpelstiltskin
Fun with fairytales is in store with this one! Is your name Harry or Sam? Or could it be Rumpelstiltskin? Help retell this classic tale of the miller's daughter, her boastful father, a handsome prince, and the ability to spin straw into gold. Discover the magic and wonder of one of the world's best loved fairytales. As audience members, you will have an opportunity to interact with the actors and explore the set.
Presented by ArtReach: The Children's Theatre of Cincinnati
Whitewater – Young Auditorium
930 West Main Street Whitewater, WI 53190 – (262) 472-2222
www.uww.edu/youngauditorium
---
February 10, 2013 – Watertown Rotary Club Annual Brunch
The Watertown Rotary Club invites the public to join them for brunch at the Watertown Country Club. The proceeds from the brunch support many community projects. The menu includes scrambled eggs, carved whole ham, sausage, roasted potatoes, pancakes, fruit, assorted coffee cakes, juice, coffee and milk. Tickets may be purchased for $10 from any Rotarian or at the Chamber office – 519 E. Main Street. Children's tickets are available on request.
Watertown – Watertown Country Club
1340 North Water Street
9am-1pm
---
February 11, 2013 – Annual Meeting of the Fort Atkinson Historical Society
The annual dinner meeting for members of the Fort Atkinson Historical Society will be held at the Hoard Historical Museum.
Fort Atkinson – 401 Whitewater Avenue – (920) 563-7769
www.hoardmuseum.org
---
February 12, 2013 – Humane Society of Jefferson County Scoopie Night
Celebrate Valentine's Day just a little bit early this year and show your love for the shelter animals! Enjoy a delicious dinner and some yummy frozen custard on Tuesday, February 12th, anytime between the hours of 4pm and 8pm at the Fort Atkinson Culver's on Madison Avenue. You will be helping to support the Humane Society of Jefferson County. Ten percent of the proceeds during those time will be donated to the HSJC, whose mission is to care for the lost, homeless and abused animals of Jefferson County, and help place them in forever homes.
Fort Atkinson – Culvers – 1551 Madison Avenue
---
February 14, 2013 – As You Like It
Do you find Shakespeare difficult to read or understand? Well, that's probably because it was meant to be on stage – the way to understand Shakespeare is to see it performed, by one of the most praised touring companies in America – The Acting Company. "All the world's a stage"…one of Shakespeare's most famous quotes comes from As You Like It, and it is a metaphor of love; it's power, madness, danger, humor and reflection. On one level, it is a diverting amusement. On a deeper level, it is a journey of discovery, in which the characters gain knowledge of themselves and the world. Come see Shakespeare the way it was meant to be seen – live – on stage!
Whitewater – Young Auditorium
930 West Main Street Whitewater, WI 53190 – (262) 472-2222
www.uww.edu/youngauditorium 
---
Katie Otto is a freelance writer who provides JCTC with some spectacular content and information. She's previously held the role of Secretary for the Jefferson County Tourism Council, has assembled our Monthly Newsletter and was the Executive Director for the Lake Mills Main Street Program, a non-profit community organization that is dedicated to the preservation, growth and vitality of Lake Mills through public events and active community involvement.