February 9, 2016 – Ragtime
This 13 time Tony® award-nominated musical is a timeless celebration of life, based on a true story by E.L. Doctorow published in 1975. Ragtime returns to the stage in a striking, all-new touring Broadway production from the producing team that most recently brought the nation The Color Purple and Spamalot.
The stories of an upper-class wife, a determined Jewish immigrant, and a daring young Harlem musician unfold. Set in turn-of-the-century New York, all three are united by their desire and belief in a brighter tomorrow. Their compelling stories are set to a rich and glorious Tony® award-winning score by Stephen Flaherty and Lynn Ahrens.
7:00 p.m.
Whitewater – Young Auditorium – UW Whitewater – 930 W Main Street
www.youngauditorium.com
262-472-2222
---
February 11, 2016 – Classical Kid's Concert
Maranatha Baptist University will present its 12th Annual Classical Kids Concert at Calvary Baptist Church in Watertown.
Concert begins at 1pm.
Maranatha's Symphony Orchestra will perform a concert entitled "Around the World in Less Than Sixty Minutes" under the direction of former Milwaukee Symphony Orchestra violist, Lewis Rosove. It is designed for students in K-4 through 8th grade, although all ages are welcome to attend.
The concert will include pieces such as Bela Bartok's Romanian Fold Dances; Dance of the Tumblers from the Snow Maiden, by Nikolai Rimsky-Korsakov; and Hatikvah, a traditional Hebrew melody arranged by John Williams.
Admission is $3 for sudents and adults. Teachers, sponsors, and children ages three and under may attend for free. To register, Call Maranatha's Music Department at 920-206-4047 or email finearts@mbu.edu.
Watertown – Calvary Baptist Church – 792 Milford Street
920-206-4047
---
February 13, 2016 – Dip for Dozer Plunge into Lake Ripley
The Dip for Dozer is one of Cambridge's most loved and fun event.  Take a dip into frozen Lake Ripley in the middle of winter for a great cause!  Dress up in your favorite themed costume and jump with friends. The day starts with turkey bowling, Kites on Ice & Ice Sculpting at 11 am, then the Dipping & Dipper Costume Contest at 1 pm.  Dip Awards, Raffles, Food & Music at Rockdale Bar & Grill at 4 pm in downtown Rockdale.  This event is always held the second Saturday in February.
Dozens of Dippers jump in the lake to raise funds and have fun in this annual Cambridge tradition.Dip registration and events begin at 11 am. Dipping starts promptly at 1pm. Events on the ice include:
Ice Sculpting
Turkey Bowling
Kites on Ice
Costume Contests
Hot Food and more!
Raffles begin at 3pm at Rockdale Bar & Grill, along with prizes for the most Dip pledges raised and the Dip costume contest. Live music starts at 7pm.
Additional information and resources:
Minimum pledges are requested in order to Dip: $52.00 for individuals, $352.00 for teams (maximum of 4 people). Team pledges must be turned in collectively by team captain. Make checks payable to DOZER 52 FOOTBALL SCHOLARSHIP FUND. Proceeds from the Dip for Dozer benefit The Dozer 52 Football Scholarship Fund, a non-profit fund of the Cambridge Athletic Booster Club for the purpose of providing post-secondary scholarships to Cambridge High School Football players. Please direct questions to Jana Evans at 608-423-3241 or 608-423-2013.
Download registration forms, etc. on the Dip for Dozer website.
Cambridge – Lake Ripley Park – N4310 Park Road
www.dipfordozer.com
608-423-3241
---
February 13, 2016 – 3rd Annual GHA Winter Fair
1:00 pm – Mounds of Garman Nature Preserve by Robert Birmingham, former WI State Archaeologist, Executive Director of the Friends of Aztalan
1:30 pm – Invasive Plants Removal: Encouraging Biodiversity at Garman and at Home by Kevin Wiesmann, Jefferson County Parks Operations Supervisor.  Including invasive plants display & materials by Jeanne Scherer, DNR
2:00 pm – Garman Nature Preserve Hike: Local Mounds, History & Invasive Plants led by educator Joni Crave, Kevin Wiesmann & Robert Birmingham
3:00 pm – Bat House Workshop by Portland Boosters 4-H
1 to 4 pm – Local Stream Monitoring Display by Rock River Coalition volunteers Sue & Bob Volenec
Invasive Plants Display by Jeanne Scherer, DNR
Homemade treats and beverages from Crave Brothers Farmstead Cheese & Friends of GHA
Locally-Focused Environmental Education
Free, Family Friendly
Donations welcome in support of future Friends programming and stewardship projects in GHA parks, trails and wildlife areas.
1-4pm
Waterloo – Waterloo Regional Trailhead Facility – 760 McKay Way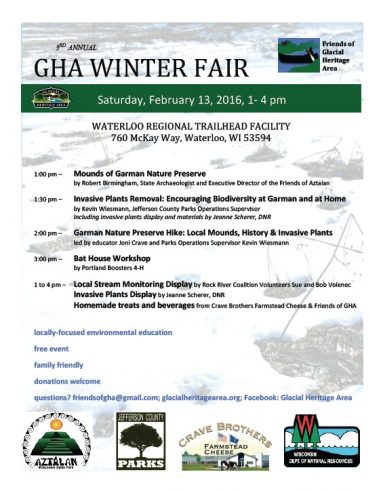 ---
February 13, 2016 – Whitewater Special Olympics
You'll be "freezin' for a reason" when you participate in the Whitewater Polar Plunge for Special Olympics Wisconsin!. Donations support more than 10,000 athletes with intellectual disabilities in the state of Wisconsin. Participants raise a minimum of $75 to plunge on event day and the more you raise, the better your prizes! Register today to join the fun!
10am-2pm
Whitewater – 341 S. Fremonth St.
polarplungewi.org/locations/feb-13-whitewater/
262-598-9507
---
February 13, 2016 – Jefferson County Board of Realtors Presents the 13th Annual Nine-Pin Scotch Doubles Bowling Fundraiser
Jefferson County Board of Realtors Presents the 18th Annual Nine-Pin Scotch Doubles
Bowling Fundraiser
Raffles and Prizes (Proceeds to Benefit Rainbow Hospice)
Texas Hold'Em
Bowling Check-In: 12:00pm
Start Time: 1:00pm
$25.00 Entry Fee per Couple
OR
Poker Registration 11:00am
Tournaments Start at 11:00am
$20.00 for startup chips
Bowling Contact: Cindy Staude 920-563-2657
Poker Contact:  Rick 920-222-4444
Text or Call to register.
If you would like to donate silent raffle or door prizes please contact Denise Sponem at 920-728-1377
11am
Fort Atkinson – Rock River Lanes – 1010 Larson Rd.
920-563-2657, 920-222-4444
---
Katie Otto is a freelance writer who provides JCTC with some spectacular content and information. She's previously held the role of Secretary for the Jefferson County Tourism Council, has assembled our Monthly Newsletter and was the Executive Director for the Lake Mills Main Street Program, a non-profit community organization that is dedicated to the preservation, growth and vitality of Lake Mills through public events and active community involvement.