July 15-20, 2014 – Muskie Love 
If Shakespeare had been born in modern-day Green Bay, he might have written Muskie Love, a whopper of a musical loosely based on Much Ado About Nothing.
This fish slapping tale tells of two rival fishing guides, Ben and Bea, both happily single. Despite their sworn hatred, our couple finds themselves bizarrely drawn to each other. Throw in the DNR, the ever-present Wisconsin obsession with the Packers, a few jokes, and a delightful blend of songs – and you've got Muskie Love.
7:30 pm
Whitewater – 950 W. Main St.
(262) 472-5943
---
July 16, 2014 – Lake Mills City Band Concert 
Stop by Commons Park to enjoy an old fashioned City Band experience.  Rain site is the City Building.
7pm
Commons Park – Lake Mills
920-648-3585
---
July 17-19, 2014 – Maxwell Street Days
Find deals and specials in many downtown locations from 9am-5pm everyday
Watertown – Main Street
920-261-6320
---
July 19, 2014 – Lake Mills Arts Festival
Join the fun at the annual Lake Mills Arts Festival in legendary Commons Park! Held the third Saturday of July each year, the 2014 Arts Festival will be on Saturday, July 19. This juried art show features a wonderful mix of Wisconsin artists and media, great food, music and kid's activities.
Please check the Arts Festival website for all of the details of this wonderful event.
Brought to you by the Lake Mills Main Street Program.
Over 60 Wisconsin artists, representing multiple genres, will be set up in Commons Park from 10am to 4pm.
Lake Mills – Commons Park downtown
920-648-6721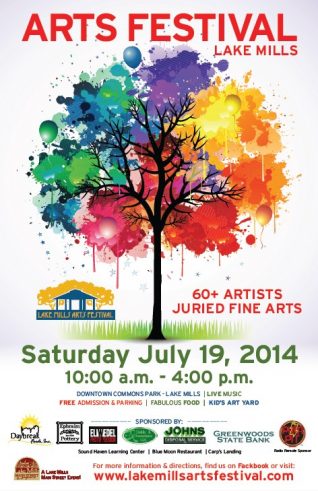 ---
Katie Otto is a freelance writer who provides JCTC with some spectacular content and information. She's previously held the role of Secretary for the Jefferson County Tourism Council, has assembled our Monthly Newsletter and was the Executive Director for the Lake Mills Main Street Program, a non-profit community organization that is dedicated to the preservation, growth and vitality of Lake Mills through public events and active community involvement.