July 16, 2013 – Fort Atkinson Cruise Night 
Music, food, old cars, and more!
5:30pm – 8:30pm
Jones Park, Fort Atkinson, WI
920-563-7501
---
July 17-21, 2013 – The Witnesses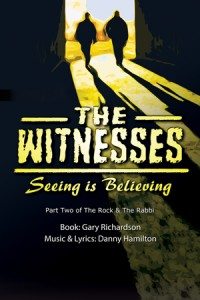 Danny Hamilton and Gary Richardson return for one week only with Part 2 of The Rock & The Rabbi Trilogy.  Through the eyes of Peter and Paul, THE WITNESSES follows an adventure that began in Jerusalem, where a small group of disciples empowered by the Holy Spirit, traveled across the Roman empire, preaching, teaching and healing.  Wherever God sent them, lives and history were changed.  This is an inspiring account of the rapid spread of Christianity throughout the work and the wonders of life in the first century.  Portrayed with masterful storytelling, THE WITNESSES also features talented signers and musicians playing acoustic and percussion instruments – from guitars, accordions and cello to African and Irish drums.  This exciting 90 minutes musical is compelling theatre for the whole family.
Wednesday, Thursday, Saturday & Sunday matinees; Thursday and Saturday evenings; Sunday midday
The Fireside Dinner Theatre, 1131 Janesville Avenue, Fort Atkinson
www.firesidetheatre.com/Christian_Concerts/Witnesses.aspx
800-477-9505
---
July 18-21, 2013: CD Players Presents Beauty and the Beast 
Enjoy the fabulous presentation of the 2013 Summer Musical "Beauty and the Beast" July 18, 19, 20 and 21.
For more information, please call Judy Brandt at 608-423-4442 or Deanne Herrling at 608-212-0672.
213 South Street, Cambridge, WI 53523
www.cdplayerstheater.org – (608) 423-4442
---
July 18-20, 2013 – Maxwell Street Days
Find deals and specials in many downtown locations from 9am-5pm everyday.
Main Street in Watertown
www.watertownchamber.com – 920-261-6320
---
July 19-20, 2013 – Hope Fest 
Hope Fest is a community celebration of friends, family and neighbors. Hosted by Tomorrow's Hope, the area's hometown healthcare charity, Hope Fest includes family-friendly events, activities, food, beverages, entertainment, a health fair, skydivers, fireworks, and other special moments and memories in honor of everyone affected by a life-limiting illness. The festival itself is a powerfully healing and emotional time. It's also a lot of fun. An overnight walk anchors all activities. Things wrap up around noon on Sat. Admission is free. The festival is open to the public. It's a great place for a family/friends gathering. Free camping is available too, if you'd like to stay overnight. Money raised by teams, events, sponsors, etc., goes to fun local healthcare services, education and research for area residents touched by a life-limiting illness. It's a good time for a good cause!
4:30 pm
Tomorrow's Hope, 503 North Jackson Avenue, Jefferson, WI 53549
www.tomorrowshope.org/ – (920) 674-8967
---
July 20, 2013 – Backstage Vibe on the Rox Music Festival 
BackstageVibe.com and Rox Sports Bar are excited to announce the first annual Backstage Vibe on the Rox Music Festival. This all-day, 12 band, Rock, Metal, Alternative, and Blues Fest will be held on July 20th, 2013, from 11am to 12midnight at the Rox in Jefferson, Wisconsin. Original live music all day inside and outside! Beer tent. Vendors. Food. Raffles. FUN!
Featured Bands:
Headliner Show – Downplay / Reason One
Festival Shows – 3 Years Hollow, Mind Drop, Left with Tomorrow, Autumn Reverie, The Jake Paul Band, Falling from Fiction, Ultrea, Nate Moralez, Matt Meyer, Joseph Huber
Advance tickets are $20 per person and will be $25 at the door. Tickets are on sale now on www.backstagevibe.com. Commemorative event T-shirts are $15 in advance, $20 day of show.
11am – 12midnight
Rox Sport Bar – N3656 County Road K, Jefferson, WI 53549
www.backstagevibe.com – 920-675-9472
---
July 20-21, 2013 – Wisconsin Buckskin Horse Show 
Two day horse show. Food available on site.
Jefferson County Fair Park, Jefferson County Fair Grounds
503 N. Jackson Ave., Jefferson, WI 53549
www.jeffersoncountyfairpark.com – 920-988-9073
---
July 20 – October 26, 2013: Cows: A Closer Look Photographic Exhibit 
Wisconsin fine art photographer, Paul Thoresen, shares his striking black and white photographs of the Holstein dairy cows living on three family farms within a mile of Thoresen's home near Paoli, Wisconsin, south of Madison. These photos are part of a ten year study of these animals. This exhibit is an invitation to know and appreciate cows more deeply. These photos will show in the museums' Jones Family Gallery through Saturday, October 26, 2013. At that time, many if not all of the photos will be relocated on the museum's second floor, in the Luella Hoard Gallery through the close of 2013.
Hoard Historical Museum, 401 Whitewater Avenue, Fort Atkinson
www.hoardmuseum.org – 920-563-7769
---
July 20, 2013 – Lions Club Chicken BBQ 
Enjoy food, softball tournament, and Lioness Pie Sale.  Many nice items to be raffled. 10am
955 Eighth Street Palmyra – 262-495-8137
---
July 20, 2013 – Lake Mills Arts Festival 
Join the fun at the annual Lake Mills Arts Festival in legendary Commons Park! Held the third Saturday of July each year, the 2013 Arts Festival will be on Saturday, July 20. This juried art show features a wonderful mix of artists and media, great food, music and kid's activities.
Brought to you by the Lake Mills Main Street Program.
Approximately 60 Wisconsin artists, representing multiple genres, will be set up in Commons Park from 10am to 4pm.
Lake Mills – Commons Park
Lake Mills Arts Festival – 920-648-6721
---
July 20, 2013 – Free Live Music at Johnson Creek Premium Outlets -Big Joe Kennedy 
The Summer Music Series, presented by Coca Cola, will offer free live music throughout the summer at Johnson Creek Premium Outlets. On July 20, Big Joe Kennedy will perform from 12:30-4:30pm. This is a family fun, kid-friendly, free event for all.
Johnson Creek Premium Outlets,
www.premiumoutlets.com/johnsoncreek – (920) 699-4112
---
Katie Otto is a freelance writer who provides JCTC with some spectacular content and information. She's previously held the role of Secretary for the Jefferson County Tourism Council, has assembled our Monthly Newsletter and was the Executive Director for the Lake Mills Main Street Program, a non-profit community organization that is dedicated to the preservation, growth and vitality of Lake Mills through public events and active community involvement.