July 28, 2014 – Fort Atkinson Community Band Concert
Join us for an outdoor band concert at 7:30pm with an ice cream social at 6:30pm (it also continues through the concert).
The Fort Atkinson Community Band is a volunteer group of about 45 musicians, made up of adults, along with some high school and college students. We rehearse on a weekly basis from March to August each year. Continuously active since 1960, our band has provided playing opportunities for the residents of Fort Atkinson and area for over five decades.
In addition to providing playing opportunities we also regularly put on public concerts. In 2014, we will be performing in five outdoor concerts at our band shell in Barrie Park. Other community event performances will be announced through out the year.
Our goal is to provide playing opportunities for amateur band musicians after they have played in high school, college, and/or the service. We also provide quality entertainment to the community, through both indoor and outdoor concerts.
In the case of inclement weather, the social and concert will move across the street to Trinity Lutheran Church.
6:30pm Ice Cream Social; 7:30pm Concert
Fort Atkinson – Barrie Park
www.fortatkinsoncommunityband.org
---
July 29-30, 2014: Triumphant Quartet in Christian Concert 
David Sutton, Clayton Inman, Scott Inman, Eric Bennett and pianist Jeff Stice form the acclaimed Southern Gospel group, the Triumphant Quartet. Their mission is to spread the Word of God through song and share the good news of Christ. Formerly based out of the Miracle Theatre in Pigeon Forge, Tennessee, Triumphant Quartet has been touring full time since 2008. Every year the Quartet and its individual members have been nominated for awards and watched their songs climb into the Top 10, songs like "I Bring You Forgiveness" and "Don't Let the Sandals Fool Ya;" albums like "Home Free" and "Triumphant;" as well as accreditation as American Gospel Music Artists. They are humbled by the support of their fans and celebrate the combination of talent, commitment and unwavering faith that keeps them together and keeps their focus on the ministry.
Tuesday matinee & evening, Wednesday evening.
Fort Atkinson – The Fireside Dinner Theatre, 1131 Janesville Avenue
www.firesidetheatre.com/Concerts
800-477-9505
---
July 30, 2014 – Lake Mills City Band Concert
Stop by Commons Park to enjoy an old fashioned City Band experience.  Rain site is the City Building.
7pm
Lake Mills – Commons Park
920-648-3585
---
July 31-August 4, 2014 – The Back-to-School & Fall Preview Sale 
Go back to school in style, enjoy the preview of fall colors and find extraordinary savings as over 60 retailers are ready to welcome you – Adidas, Ann Taylor, Banana Republic, Carters, Coach, Eddie Bauer, Gap Outlet, Gymboree Outlet, Loft Outlet, Nike Outlet, Old Navy Outlet, Polo Ralph Lauren, Tommy Hilfiger, Under Armour and many more!
The sale runs Monday-Saturday 10am-9pm; Sunday 10am-7pm
Johnson Creek – Johnson Creek Premium Outlets, 575 Linmar Ln
www.premiumoutlets.com/johnsoncreek
920-699-4112
---
August 1-3, 2014 – Badgerland Bluegrass Classic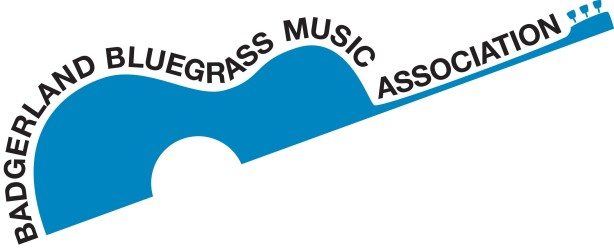 The Badgerland Bluegrass Music Association is proud to present the Badgerland Bluegrass Festival on Saturday, August 2nd.
The festival will be held in the Activities Building at the Jefferson County Fair Park, so it's all indoors for your enjoyment and comfort, whether it's rainy or sunny.
Our line-up for the day includes instrumental workshops beginning at 10 am, with guitar, autoharp and harmonica workshops. At 11 am, the next group of workshops will include mandolin, banjo and bass. All workshops will be conducted by members of performing bands. All interested people, whether you play or are just interested in learning, are welcome to participate or just sit in.
Band performances are:
1:00-1:45 – Mecan River Ramblers   5:30-6:15
1:45-2:30 – Genesee Ridge            6:15-7:00
2:30-3:15 – Pickin' Up Speed          7:00-7:45
3:15-4:00 – Big Cedar                   7:45-8:30
4:00-4:45 – Freshwater                 8:30-9:15
4:45-5:30 – Daylight in the Swamp (Madison) 9:15-10:00
10:00-11:30 – Monroe Crossing-headliner
Tickets for the day are only $25/adult. Our food vendor is Augie's Elite Catering, from Watertown. Beer will also be available for purchase.
If you want to be really comfortable all day, bring your favorite low-back lawn chair. There will be bleachers for those who forget.
Camping is $25/night for electric & $20 with no electric hookup.
C'mon down!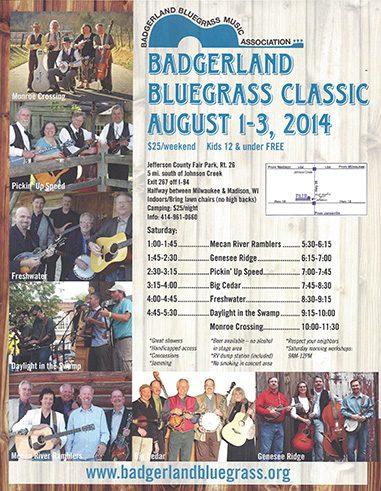 ---
Katie Otto is a freelance writer who provides JCTC with some spectacular content and information. She's previously held the role of Secretary for the Jefferson County Tourism Council, has assembled our Monthly Newsletter and was the Executive Director for the Lake Mills Main Street Program, a non-profit community organization that is dedicated to the preservation, growth and vitality of Lake Mills through public events and active community involvement.