June 19, 2014 – Jimmy Buffet and the Coral Reefer Band – Live at the Drive-In!
Any Jimmy Buffet fans out there? Jimmy Buffet and the Coral Reefers will be performing at the Coyote Drive-In in Fort Worth, Texas on June 19 – and the concert will be simulcast at select drive-ins across the country!
The Highway 18 Outdoor Theatre will be participating and streaming the show!
Parking begins at 7pm.
Tickets are NOT available as you drive in – they must be purchased online: http://www.highway18.com/
Jefferson – Highway 18
Highway 18 Outdoor Theatre
---
June 20, 2014 – Movie in the Park – Frozen
Join us for a FREE movie in the Park!
It is about the kingdom of Arendelle which is cast into eternal winter by the powerful Snow Queen Elsa (voice of Idina Menzel), her sprightly sister Anna (Kristen Bell) teams up with a rough-hewn mountaineer named Kristoff (Jonathan Groff) and his trusty reindeer Sven to break the icy spell.
Movie is sponsored by Brantmeier Law, LLC. Concessions will be provided by the Council for the Performing Arts.
The Jefferson American Legion Band is performing a concert prior to the movie from 6-8pm.
Dusk
Jefferson – 301 S. Gardner Ave.
920-674-7720
---
June 20, 2014 – The Collingsworth Family in Christian Concert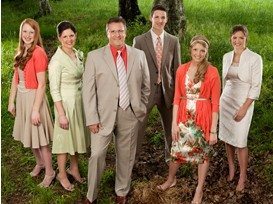 Phil and Kim Collingsworth's ministry began during their college days when Phil earned a degree in Sacred Music studying both Trumpet Performance and Music Education and Kim arranged music for her school's traveling performing groups. Since their first engagement together as musicians in 1986 until now, their ministry has flourished into a full-time venture that involves their entire family. Persistent attention to cutting-edge arranging, musical excellence and proper spiritual emphasis are the keys to their God given success. An inspiring concert by the Collingsworth Family includes both award-winning vocal and instrumental music that is certainly a treat for all ages. They have received numerous awards and honors throughout the Gospel industry. Through it all, their purpose remains to give the talent God has loaned them back to their Creator as a sacrifice of praise!
Friday matinee and evening.
Fort Atkinson – The Fireside Dinner Theatre, 1131 Janesville Avenue
http://www.firesidetheatre.com/Concerts
800-477-9505
---
June 20-21, 2014 – 3rd Annual Pig in the Park 
Join us at Cravath Lake Front Park for a BBQ Cook-Off, Live Music, Motorcycle Show and Family Fun
Whitewater – Cravath Lake Front Park
---
June 24-28, 2014 – Deathtrap
Suspense and comedy combine to create this ingenious thriller. After struggling with a dry spell, Broadway writer Sidney Bruhl discovers a potential hit script: Deathtrap. Sidney and his wife devise a plan to offer a collaborative arrangement to the student who wrote it, but the plot soon turns sinister. Twist after twist will keep you guessing until the unforgettable finish.
7:30pm
Whitewater – 800 W Main Street
UW Whitewater – College of Arts & Communication
(262) 472-5943
---
June 25, 2014 – Annual Golf Outing
Annual Golf Outing sponsored by the Jefferson Chamber of Commerce, held at the Jefferson Golf Club, for more info call 674-4511.
Jefferson – 913 Golf Drive
920-674-4511
---
June 25, 2014 – Lake Mills City Band Concert
Stop by Commons Park to enjoy an old fashioned City Band experience.  Rain site is the City Building.
7pm
Lake Mills – Commons Park
920-648-3585
---
June 26-29, 2014 – Town & Country Days
Downtown Commons Park filled with rides and games for all ages!  Starting on Thursday night you can enjoy a Legendary Slider while listening to a local band in the Sons of American Legion Beer Tent.  Check out www.lakemills.org for band listings.
4pm to 11pm Thursday and Friday; all day Saturday and Sunday
Lake Mills – Commons Park
920-648-3585
---
June 28, 2014 – Town Country Days Parade
Come to Lake Mills and enjoy a parade with 100 or more parade entries! The parade route starts on Main Street and Lake Park Place heading downtown with the Parade route ending at Prospect Street.
10:30am
Lake Mills – Main Street
920-648-3585
---
June 30, 2014 – Fort Atkinson Community Band Concert
Join us for an outdoor band concert at 7:30pm with an ice cream social sponsored by "Fort Atkinson Garden Club" at 6:30pm (it also continues through the concert).
The Fort Atkinson Community Band is a volunteer group of about 45 musicians, made up of adults, along with some high school and college students. We rehearse on a weekly basis from March to August each year. Continuously active since 1960, our band has provided playing opportunities for the residents of Fort Atkinson and area for over five decades.
In addition to providing playing opportunities we also regularly put on public concerts. In 2014, we will be performing in five outdoor concertsat our baad shell in Barrie Park. Other community event performances will be announced through out the year.
Our goal is to provide playing opportunities for amateur band musicians after they have played in high school, college, and/or the service. We also provide quality entertainment to the community, through both indoor and outdoor concerts.
In the case of inclement weather, the social and concert will move across the street to Trinity Lutheran Church.
6:30pm Ice Cream Social; 7:30pm Concert
Fort Atkinson – Barrie Park
www.fortatkinsoncommunityband.org
---
Katie Otto is a freelance writer who provides JCTC with some spectacular content and information. She's previously held the role of Secretary for the Jefferson County Tourism Council, has assembled our Monthly Newsletter and was the Executive Director for the Lake Mills Main Street Program, a non-profit community organization that is dedicated to the preservation, growth and vitality of Lake Mills through public events and active community involvement.