June 22, 2016 – Fort Atkinson Summer Charity Concerts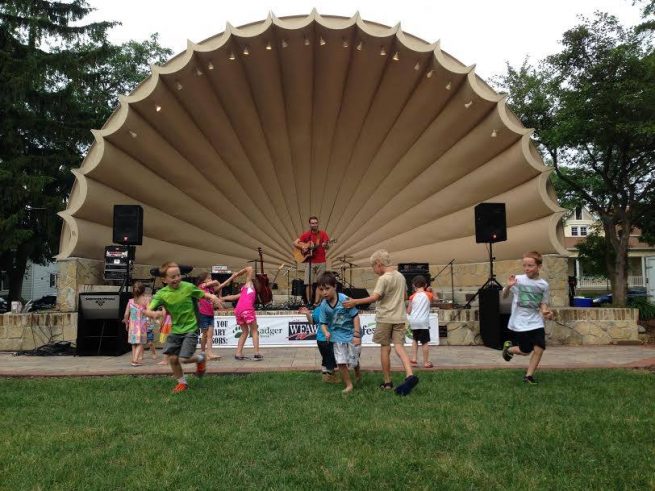 Bring your lawn chair, pack a picnic basket, and enjoy an evening with friends for concerts in the park featuring Trap Saturn.
Held Wednesday evening during the summer at Barrie Park Band Shell, an outdoor music venue for the community, for a total of six concerts all for a charitable cause. Funds raised are donated to Boys & Girls Club of Fort Atkinson and applied to the Fort Atkinson Charity Concert scholarship which supports students who have shown a commitment to their communities.
6pm-9pm
Fort Atkinson – 210 Robert Street
---
June 24-25, 2016 – Rock the River
1st Street Parking Lot in downtown Watertown.
A community celebration featuring an outdoor movie on Friday evening, food and beverages.
Music by the river on Saturday evening from 7pm – 11pm.
Watertown – South 1st Street
---
June 25-26, 2016 – Town & Country Days
Downtown Commons Park filled with rides and games for all ages!  Starting on Thursday night you can enjoy a Legendary Slider while listening to a local band in the Sons of American Legion Beer Tent.
Check out www.lakemills.org for band listings.
4pm to 11pm
Lake Mills – Commons Park
www.lakemills.org
920-648-3585
---
June 25, 2016 – Town & Country Days Parade
Come to Lake Mills and enjoy a 100-plus unit parade.  The New Parade Route starts on East Lake Street and CP Ave heading downtown with the Parade route ending at Pine Street.
10:30am
Lake Mills – Downtown
920-648-3585
---
June 26, 2016 – Tour Da Goose Bike Ride
The Tour Da Goose bike ride is back again for the 4th year. We will have a family friendly12 mile ride, 22 mile bike ride, a 42 mile route, 62 mile route & the 100 mile century through the beautiful rolling countryside of Jefferson County. The ride is fully supported with rest stops & sag wagons. Afterward, enjoy good food, live music & beer at the Riverside Park.
7am – 6pm
Watertown – 850 Labaree St.
www.tourdagoose.com/
920-988-9224
---
Katie Otto is a freelance writer who provides JCTC with some spectacular content and information. She's previously held the role of Secretary for the Jefferson County Tourism Council, has assembled our Monthly Newsletter and was the Executive Director for the Lake Mills Main Street Program, a non-profit community organization that is dedicated to the preservation, growth and vitality of Lake Mills through public events and active community involvement.