Through June 7 – All Shook Up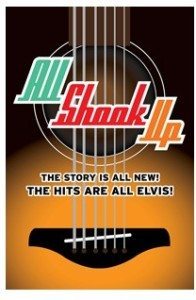 Join us for the Fireside premiere of this rocking, rollicking musical comedy featuring the songs of the King of rock and roll  – Elvis Presley.   No tight pants, no kissing and no loud music.  Those are the rules in one small Midwestern 1950's town.  But then a stranger comes to town – a rebellious, guitar-playing, hip swiveling roustabout (who bears a striking resemblance to the King himself). All at once everything changes – young love blooms, unspoken dreams begin to come true, and the once quiet little town is turned upside down in this hilarious, tuneful, high-stepping, award-winning Broadway romp featuring laughs, romance, thrilling dances, and a  host of your favorite Presley classics such as "Jailhouse Rock," "Hound Dog," "Heartbreak Hotel," "Blue Suede Shoes," "Don't Be Cruel," "Burning Love" and many, many more!
Seven shows weekly Wednesday through Sunday
Fort Atkinson – 1131 Janesville Avenue
800-477-9505
---
Through August 24, 2015 – Fort Atkinson Generals
Welcome to Fort Atkinson Generals Baseball!
The Fort Atkinson Generals are part of the largest adult amateur baseball organization called the Home Talent League. Originally founded in 1929 and continues to thrive today with approx. 45 teams in South Central Wisconsin.
Take time to visit our comments page as we value your ideas and comments, then join us at historic Jones Park for some exciting adult baseball while you munch on some popcorn, famous brats and a beverage.
Check out our Web Site for all activities at Jones Park
Fort Atkinson – Jones Park
(920) 728-1997
---
June 6, 2015 – Elements of Art – a Festival of Fine Art
Come to Cambridge – a GREAT little get-away!  The Cambridge Arts Council brings you  the  annual Elements of Art Festival which  is set in scenic Westside Park, along the Koshkonong Creek and will feature juried fine artists in a variety of mediums including: pottery, glass, wood, fiber arts, painting, photography, and jewelry.
Located at the head of the Camrock Trail System.  LIVE MUSIC ALL DAY!
9am – 4pm
Cambridge – Cambridge Area Chamber of Commerce, West Side Park – 85 W. Pleasant St.
---
June 6 through June 19, 2015 – The Summer Art Show – "Play Along" 
Opening party on June 6, from 3-5pm – food, beverages, music and meet the artists!
June 13 from 2-4pm – everyone is invited to play along and make artwork for the Lake Mills Alley Project. Upstairs at the library.
Presented by the Arts Alliance of Greater Lake Mills.
Lake Mills – LD Fargo Public Library
---
Katie Otto is a freelance writer who provides JCTC with some spectacular content and information. She's previously held the role of Secretary for the Jefferson County Tourism Council, has assembled our Monthly Newsletter and was the Executive Director for the Lake Mills Main Street Program, a non-profit community organization that is dedicated to the preservation, growth and vitality of Lake Mills through public events and active community involvement.