Through June 7 – All Shook Up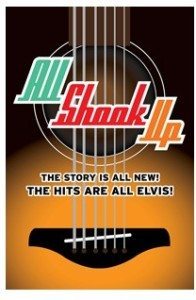 Join us for the Fireside premiere of this rocking, rollicking musical comedy featuring the songs of the King of rock and roll  – Elvis Presley.   No tight pants, no kissing and no loud music.  Those are the rules in one small Midwestern 1950's town.  But then a stranger comes to town – a rebellious, guitar-playing, hip swiveling roustabout (who bears a striking resemblance to the King himself). All at once everything changes – young love blooms, unspoken dreams begin to come true, and the once quiet little town is turned upside down in this hilarious, tuneful, high-stepping, award-winning Broadway romp featuring laughs, romance, thrilling dances, and a  host of your favorite Presley classics such as "Jailhouse Rock," "Hound Dog," "Heartbreak Hotel," "Blue Suede Shoes," "Don't Be Cruel," "Burning Love" and many, many more!
Seven shows weekly Wednesday through Sunday
Fort Atkinson – 1131 Janesville Avenue
800-477-9505
---
Through August 24, 2015 – Fort Atkinson Generals
Welcome to Fort Atkinson Generals Baseball!
The Fort Atkinson Generals are part of the largest adult amateur baseball organization called the Home Talent League. Originally founded in 1929 and continues to thrive today with approx. 45 teams in South Central Wisconsin.
Take time to visit our comments page as we value your ideas and comments, then join us at historic Jones Park for some exciting adult baseball while you munch on some popcorn, famous brats and a beverage.
Check out our Web Site for all activities at Jones Park
Fort Atkinson – Jones Park
(920) 728-1997
---
May 1-2, 2015 – Lake Mills City-Wide Rummage Sale
The Tyranena Ladies are hosting their annual City Wide Rummage Sale this weekend. Maps will be available at Sentry, Friday Morning.
Lake Mills – all throughout town
---
May 1-2, 2015 – Spring Used Book Sale
Visit our used book sale on Friday and Saturday. We will have audio books on CD plus used books. Items of note are copies of the following authors' books-Janet Evanovich, J.D. Robb, and Suzanne Brockman in very good condition.
9am – 3pm
Jefferson Public Library, 321 South Main Street Jefferson, WI 53549
920-674-7733 extension 3
---
May 2, 2015 – Spring City Wide Rummage Sale
Maps will be available after noon on Wednesday.
7am-4pm
Jefferson – all throughout town
920-674-4511
---
May 2-3, 2015 – Spring Potters Tour – The Clay Collective
The Clay Collective presents an all clay, driving tour of seven area studio potters, with over 250 years combined experience, displaying new works from their spring firings. Each studio will have a pottery raffle with all proceeds donated to local food pantries.  Studios and galleries will be open with new work on display.
Saturday & Sunday May 2nd  & 3rd 10am to 5pm
Touring the rural art studios in the Cambridge area.
Cambridge Area
608-423-4507
---
Katie Otto is a freelance writer who provides JCTC with some spectacular content and information. She's previously held the role of Secretary for the Jefferson County Tourism Council, has assembled our Monthly Newsletter and was the Executive Director for the Lake Mills Main Street Program, a non-profit community organization that is dedicated to the preservation, growth and vitality of Lake Mills through public events and active community involvement.