May 10-11, 2016 – The Hoppers
This multi-award winning family group has been singing to global audiences for over 55 years with appearances ranging from presidential religious inaugural ceremonies and New York's Carnegie Hall to singing conventions and churches. They have performed throughout the United States as well as in Israel, Europe, and Africa. Their unique blend of harmonies and song choices have created a legacy of musical excellence. Known as America's Favorite Family of Gospel Music, they are favorites on the Gaither Homecoming videos and tours, and their recordings frequently land at the top of the charts. Comprised of family members Claude & Connie, son Mike Hopper, and son Dean and his wife, Kim and their daughter Carly, The Hoppers were formed in 1957 in the rural-farm town of Madison, NC, and have grown continuously for decades, touching countless lives around the world. Kim is particularly noted for the excitement she brings to any live performance – her unmistakable, rafter-ringing soprano vocals are not to be missed!
Tuesday matinee arrival at 10:30am; Tuesday and Wednesday evening arrival 5pm
Fort Atkinson – Fireside Dinner Theatre – 1131 Janesville Ave
800-477-9505
www.firesidetheatre.com
___________________________________________________________________
May 14, 2016 – Watertown City-Wide Rummage Sale
Rummage sales throughout the city of Watertown.
Sponsored by the Watertown Daily Times.
Watertown – around town – 920-261-4949
___________________________________________________________________
May 14, 2016 – Community Shred Day
Bring your confidential personal and business documents to be professionally shredded onsite by PROSHRED Security.
Saturday, May 14 from 10am to 12pm.
Shred trucks will be at BOTH Bank of Lake Mills Locations:
Lake Mills: 136 East Madison Street
Watertown: 400 Bernard Street
Electronics will not be taken this time.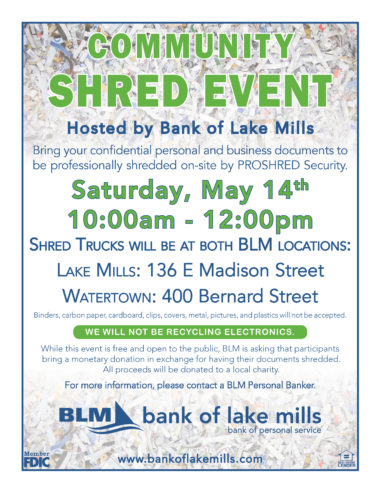 ___________________________________________________________________
May 14, 2016 – Touch a Truck Bike Rodeo
Join us for the annual Touch-A-Truck event! Don't miss your chance to see the vehicles that fascinate you up close and hands on, including emergency and military vehicles, farm equipment, race cars and much more.
Registration is not required for this free event.
Don't forget your camera for this wonderful photo opportunity!
In conjunction with Touch-A-Truck, the Dane County Sheriff's Office will also be hosting a bike rodeo. A bike rodeo is designed to be a fun, educational and hands on way for children and parents to learn about bike safety. There will also be a bike technician available to do a safety check on the bikes. An adult must attend along with the bike riders. Free bike helmets will be provided for the first 50 participants to arrive. Participants who complete the course will be eligible for a prize drawing.
10am – 12pm
Cambridge –  403 Blue Jay Way
http://www.cambridgewi.com/events/touch-a-truck-bike-rodeo
608-423-8108
__________________________________________________________________
May 14, 2016 – Fiesta Cultural Latino Americana & Fiesta 5k
Please join us for a day of fun with your family & friends!Promoting positive cross-cultural attitudes in our multicultural community.
Saturday, May 14th, 2016
9am – 2pm
Schurz Elementary School
Fiesta 5k starts at 9am
After Fiesta 5k, we'll enjoy Mexican food, live Mariachi music, pinatas, and dance performances by Schurz Dance Club, Dance Group Arcoiris and Ballet Folklorico Nacional of Milwaukee
Watertown
Check our website for more details!
__________________________________________________________________
May 14, 2016 – Free Memory Screening
What is memory screening? It's a wellness tool to identify possible changes in memory and cognition. This information is used as a baseline of where a person is today and to monitor changes in the future. This is not a diagnostic tool. Cathy Kehoe, the Dementia Care Specialist for Jefferson County, can complete a short memory screen for you at no cost. We provide you with the results immediately, and you can share them with your physician or keep them for future comparison. If potential changes are detected, it's very important to follow-up with your physician or a memory diagnostic clinic for further evaluation. Upon request, we can fax the results to your physician. Please call the library at 920-674-7733 ext. 3 to reserve your half hour time slot.
9:30am – noon
Jefferson – Jefferson Public Library – 321 South Main Street
920-674-7733 ext. 3
___________________________________________________________________
Katie Otto is a freelance writer who provides JCTC with some spectacular content and information. She's previously held the role of Secretary for the Jefferson County Tourism Council, has assembled our Monthly Newsletter and was the Executive Director for the Lake Mills Main Street Program, a non-profit community organization that is dedicated to the preservation, growth and vitality of Lake Mills through public events and active community involvement.