May 23, 2018 – Collingsworth Family
Excitement, spiritual annointing, family emphasis, and musical excellence are what you'll find in a Collingsworth Family concert. Phil and Kim's ministry began in college where Phil earned a degree in Sacred Music studying Trumpet and Music Education and Kim arranged music for her school's traveling performing groups. Since their first engagement together as musicians in 1986 until now, their ministry has flourished into a full-time venture that involves their entire family. Persistent attention to cutting-edge arranging, musical excellence and proper spiritual emphasis are the keys to their God given success. An inspiring concert by the Collingsworth Family includes both award-winning vocal and instrumental music that is certainly a treat for all ages. They have received numerous awards and honors throughout the Gospel industry. Through it all, their purpose remains to give the talent God has loaned them back to their Creator as a sacrifice of praise!
Wednesday matinee arrival at 10:30am and evening arrival at 5:00pm
Fort Atkinson – The Fireside Dinner Theatre – 1131 Janesville Avenue
https://www.firesidetheatre.com
800-477-9505
---
May 25-28, 2018 – Celebrate our Fallen Heroes on Memorial Weekend at Jellystone Park of Fort Atkinson
Join everyone here at Jellystone Park™ of Fort Atkinson for the 3-day Memorial Day weekend as we celebrate and honor all of our veterans and fallen heroes. There will be Red, White, and Blue proudly displayed throughout the park. We will break out the Rolling Log activity in the pool, have a site decorating contest, and have a parade with all of the bears. Be sure to check out the eating contests, the bags tournament, and all the other games all weekend. We will have our first Water Wars of the season, and a Glow Parade will take place after the dance. Kids and adults of all ages are sure to have a great time with all of the fun things that we have planned.
Fort Atkinson – N551 Wishing Well Lane
41-877-232-7386
---
May 26-27, 2018 – Fort Koshkonong Rendezvous
Take a step back in time with the early pioneers of the 1800s, as people reenact this historical time period.  Stroll through the park and view demonstrations and exhibits of how tasks were accomplished.  Demonstrations include black powder shooting and competition, pioneer demonstrations, interactive old-time chores, and blacksmithing. Sit back and relax on a horse-drawn wagon or sample fry bread, root beer, and kettle corn from our camp chefs.
Visitors will capture the lifestyle, from clothing worn by the pioneers to their housing.  See the old "Fort", a replica for local militia units during the Black Hawk War of 1832.
This year, visitors will learn about steel and wood working trades.
Free parking is available.
Saturday 9am-5pm & Sunday 9am-4pm
Fort Atkinson – Rock River Park – 1300 Lillian Sreet
(920) 563-7769
---
May 26, 2018 – Palmyra Party in the Park
Food, refreshments and live music!  Palmyra-Eagle Community Band at 6pm and Off the Record, Classic Rock at 7:30-11pm.  Pie Baking Contest – Bring your pies to the Park Pavilion – judging starts at 6:30pm
6-11pm
Palmyra – Palmyra Village Park – 955 Eighth Sreet
262-903-3502
---
May 28, 2018 – Cambridge Memorial Day Parade & Firemen's Breakfast
Enjoy your Memorial Day in downtown Cambridge.
Memorial Day starts with the annual Firemen's all-you-can-eat breakfast at the Fire Station, with the annual parade down Main Street at 10:30am followed by a Memorial service downtown in Veteran's Park after the parade, and back to the Fire Station for the continuing French Toast & Eggs breakfast.
Interested in participating in the parade?    You can line up at the Middle School at 10 am and the parade takes off at 10:30 am.
Memorial Day breakfast 6 am to 11:30 am at the Cambridge Fire House, 271 W. Main
Parade starts at 10:30 at the Nikolay Middle school, 211 South St. and heads down Main St.
Memorial Service in downtown Veteran's Park immediately following the parade sponsored by the Cambridge Historic School Foundation.  The memorial service will include a laying of the wreath, music by the Cambridge High School Band and the Bel Canto Choir and speakers. It is a moving presentation and a beloved Cambridge tradition.
6am – 11:30am
Cambridge – Cambridge Area Chamber of Commerce – 271 Main Street
608-423-3780
---
May 28, 2018 – Ripley Park Opening Day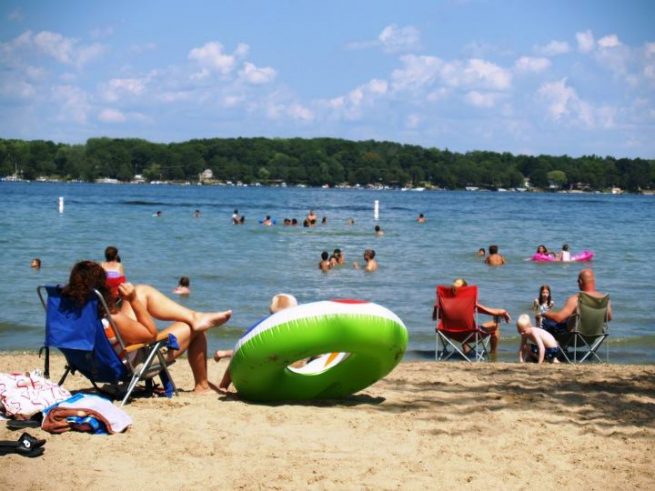 The gates of Ripley Park will open at 9 am on Saturday, marking yet another wonderful summer in Cambridge, Wis. Located on the west shores of Lake Ripley, Ripley Park is an 18 acre park privately owned by the Cambridge Foundation and managed by the Cambridge Community Activities Program. Ripley Park has something for everyone – sandy beach, swimming, basketball, volleyball, tennis and more!
There will be FREE admission, special events and games all day long!
9am
Cambridge – Lake Ripley Park – N4310 Park Road
---
May 29, 2018 – 8th Annual Watertown Art Walk
The Watertown Arts Council and the Watertown Unified School District Art Department team up to present an Art Walk. From 4-7pm, stroll historic downtown Watertown as you take in an array of art displays by local talent.  Art will be located inside and out of downtown businesses.  Up to 40 participating locations!
Maps featuring local businesses and artists will be available at Partnership Bank and the Watertown Chamber of Commerce
4:00pm – 7:00pm
Watertown – East Main Street
920-262-7500
---
May 31 to July 15, 2018 – Church Basement Ladies 2 – A Second Helping
Join us as our delightful "Steel Magnolias of the Prairie" deal with life, death, and new adventures, finding strength in each other from below the "House of God." This time around, the year is 1969 and the world is changing. As folks protest the Vietnam War and women are demanding equal pay for equal work in their small rural Minnesota community, the ladies of the Lutheran church basement kitchen are dealing with changes of their own. With their heartwarming humor and hilarious antics, they take us from serving the high school students at the Luther League Banquet to a church sponsored Missionary Night and the rise and fall of a Viking's Super Bowl Sunday.
Seven shows weekly Wednesday through Sunday
Fort Atkinson – The Fireside Dinner Theatre – 1131 Janesville Avenue
https://www.firesidetheatre.com
800-477-9505
---
Katie Otto is a freelance writer who provides JCTC with some spectacular content and information. She's previously held the role of Secretary for the Jefferson County Tourism Council, has assembled our Monthly Newsletter and was the Executive Director for the Lake Mills Main Street Program, a non-profit community organization that is dedicated to the preservation, growth and vitality of Lake Mills through public events and active community involvement.