September 22, 2018 – Concert on the Lawn
Bring your lawn chair or blanket and enjoy live music while enjoying the beauty of the Hoard Historical Museum lawn and garden.
3:00pm
Whitewater – 401 Whitewater Avenue
_____________________________________________________________________________
September 28-30, 2018 – Madison Classics 41st Annual Fall Swap Meet & Car Show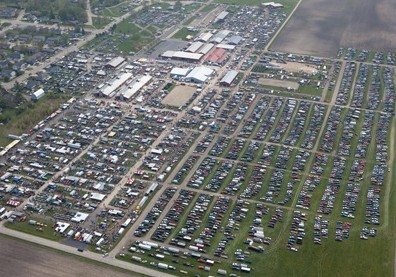 The Swap Meet and Car Corral are open all weekend, and the Car Show is now Two Big Days!!! Saturday and Sunday. The spectator gates for the Swap Meet and Car Corral are open Friday 10am-7pm, Saturday 6am-4pm, and Sunday 6am-3pm. The Car Show gate opens at 6am on Saturday & Sunday-please remember the Car Show is first come first served and plenty of space is available. All makes and models and specialty vehicles are invited to participate in the Car Show. Expect to see over 3100 swap spaces full of parts and 100's of cars for sale in the car corral over the weekend.
The featured vehicles at Fall Jefferson 2018 will be Buick & Oldsmobiles. Look for many hot rods in the Car Show area Saturday & Sunday parked on the blacktop in front of the main building.
Spectator admission for adults is $8 and children under 12 are free. Spectator parking is available for $4, but is limited so please arrive early. No campers will be allowed in the parking field, but camping is available near by. Swap spaces will be available at the gate. Car corral spaces will be available at the Car Corral entrance all weekend. There is an ATM on the grounds as well as concessions. No pets please.
Friday 10am-4pm, Saturday-Sunday 6am-4pm
Jefferson – Jefferson County Fair Park – Jefferson County Fairgrounds – 503 N. Jackson Avenue
608-244-8416
---
September 29, 2018 – Run From the Cops
The one time it is OK to run from the cops!  The Run from the Cops is a 10k run, 5k run/walk and 1-mile youth run sponsored by the Coordinated Community Response Team on Domestic Violence in partnership with the Watertown Police Department and Watertown Regional Medical Center. Run from the Cops offers something for runners of all levels… and it is chip timed. Whether you're a competitive distance runner or want to walk with your kids in their stroller, we encourage everyone to get involved. Join us for a great run that supports a great cause! And of course, enjoy donuts along the way!
7:30am-12pm
Watertown – 106 Jones Street
www.watertownrunfromthecops.com/
---
September 30, 2018 – Barktoberfest
Barktoberfest is  a free and fun canine festival and party for you and your dog(s) held Sunday  at downtown West Side Park. The festival includes vendors, rescue groups, dog demos, a demonstration of lure coursing, costume and trick contests with great prizes, food and more. Join in for a "Howling" good time with fun for humans and their hounds.
The day starts at Westside Park for fun, games and contests. The day ends with Yappy Hour, a raffle and live music for both you and your dog(s).
This event is sponsored by Friends of CamRock Park.
11am – 3pm
Cambridge – Westside Park – 85 W. Pleasant Street
Cambridge Area Chamber of Commerce
608-445-0755
---
Katie Otto is a freelance writer who provides JCTC with some spectacular content and information. She's previously held the role of Secretary for the Jefferson County Tourism Council, has assembled our Monthly Newsletter and was the Executive Director for the Lake Mills Main Street Program, a non-profit community organization that is dedicated to the preservation, growth and vitality of Lake Mills through public events and active community involvement.