September 20-21, 2014 – Discover Whitewater Series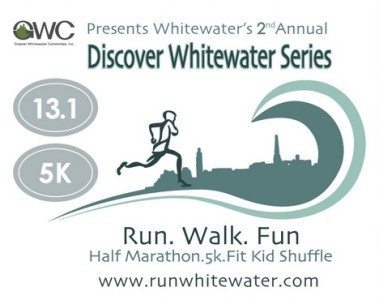 Half marathon, 5k, and fit kid shuffle. Starts at the Whitewater Aquatic Center. USATF Certified Course, Purse Race, Wheelchair Division, Complimentary Pre- Race Dinner and Event Day Breakfast, Post-race events and much more!
Saturday, September 20, 2014
UW-Whitewater UC/Hamilton Room 4:30-7:30pm
Pre-Race Dinner
Packet Pick Up
On Site Registration
Sunday, September 21, 2014
Whitewater High School (Walworth & Court Street)
8am Half Marathon Start
8:15am 5K Start
9:45am Fit Kid Shuffle
10:15am Awards Ceremony
6:30am-1pm Kiwanis Pancake Breakfast
8am-1pm Post Race Events
Whitewater – UW Whitewater campus
(920) 397-0601
---
September 20, 2014 – City wide Rummage Sale
Maps available at the Watertown Daily Times office, 115 W Main Street
9am-5pm
Watertown
920-261-4949
---
September 20, 2014 – Cambridge Fun Run & Family Health & Wellness Expo
CAP is hosting the 8th annual Fun Run and Family Health & Wellness Expo on Saturday 9/20 from  10am to 1pm at downtown West Side Park.
Adults, children, and families are encouraged to participate in either the 1 mile or 5 K Fun Run/Walk.   Afterwards, you can browse the Family Health & Wellness Expo booths providing information on health and wellness service providers available in Cambridge and the surrounding areas. Gain expert advice from area health and wellness practitioners and services in the fields of chiropractic, dental, recreation, medical, assisted living, spa & salon, massage, and much more. Kids activities will be available throughout the day.
Location: Westside Park, 85 S. Pleasant St., Cambridge
Fee: $15 to register for Fun Run
To receive a t-shirt, pre-registration is due by September 11. Medals and t-shirts will be handed out at the completion of the race. To register, please visit www.cambridgecap.net  or call (608) 423-8108.
Schedule of events:
10:00am 1 Mile Fun Run starts
10:30am 5 K Fun Run/Walk starts
10:00am – 1:00 p.m. Face Painting
11:00am – 12:00 p.m. Jazzercise Class Demo
12:00- 1:00pm Body FIT Class Demo
10am to 1pm
Cambridge – 85 W. Pleasant Street (West Side Park)
(608) 423-8108.
---
September 20, 2014 – Fall Fest in Cambridge
Fall in downtown Cambridge has unique activities that are fun for the whole family.    Enjoy Fall Fest on Saturday 9/20/14 from 10am to 4pm in downtown Veteran's Park, 100 E. Main St. with scarecrow building, shopping for hand-made items, rockin' to live music, riding on tractor hayrides,  face painting, petting some farm animals, entering a Pie Baking contest and auction or the Pie Eating Contest.
The Cambridge Community Activities Program will also be conducting its annual Fun Run and Family Wellness Fair in the morning at downtown West Side Park.
10am – 4pm
Cambridge
608-423-3780
---
September 20, 2014: Arts and Sparks in the Park
Arts and Sparks in the Park, a FREE event, combines a live-action Welding Rodeo and a Fine Arts & Crafts Fair. Visitors watch teams compete in the Welding Rodeo to create a sculpture from a pile of scrap metal in 8 hours. At the end of the Welding Rodeo competition, visitors will be able to bid to purchase a sculpture in the silent auction and take their sculpture home that night. While the welders create, other artists will have unique art for sale. Many other activities during the day engage visitors in enjoying creativity in many forms including live music and special activities by the Fort Atkinson Community Theater. There will be food and beverage available from the Lions Club. This event is presented by Loeb-Lorman Metals and the Fort Atkinson Arts Council. RAIN DATE Sept. 21-weather postponement updates available on Facebook. Event photos by Mark Bernhardt.
10am – 5pm
Fort Atkinson – Ralph Park, High Street
262-707-7292
---
September 20, 2014 – Rockman Challenge
Paddle on the Rock River, bike in Jefferson County, then run through the woods. A military style obstacle course with drill sergeants at the end provides the twist. Race begins at 9:30am. Participants may go solo or be part of a team. More details on our website.
9:30am-6pm
Watertown – 600 Hoffmann Drive
414-704-9969
---
September 21, 2014 – Bike and Hike with the Artists
This Arts Alliance event highlights and honors the Glacial Heritage Area (GHA) of Jefferson County. It will be held in Korth Park on Sunday, September 21 from 11-3.
Join us for live music by Eric Chesney and visit artists while they work. Bring the kids and create your own works of art or join a Drum Circle at 1pm. At 1:30pm, a guided nature hike will be presented by the Friends of the GHA. Artists include watercolorists Amy Arntson, Carolyn Liedtke, and Gail Juszczak. Other artists include needle-felter Marianne Oberbillig, author Mary Edwards, photographer Cindy Emerson, woodworker Tom Berns and potter Bud Skupniewitz.
You don't have to choose – we have it all!
11am-3pm
Lake Mills – Korth Park
---
Katie Otto is a freelance writer who provides JCTC with some spectacular content and information. She's previously held the role of Secretary for the Jefferson County Tourism Council, has assembled our Monthly Newsletter and was the Executive Director for the Lake Mills Main Street Program, a non-profit community organization that is dedicated to the preservation, growth and vitality of Lake Mills through public events and active community involvement.