BUCKHORN SUPPER CLUB
11802 North Charley Bluff Road
Fort Atkinson, WI
608-868-2653
www.thebuckhorn.net
Did a more beautiful Sunday evening ever exist in Wisconsin? August can be beastly hot in our state, bur with a calming breeze coming off Lake Koshkonong under a large white canopy, our 6:30PM reservation provided a sunset fit for the history books.
Appetizers range in price from $9.49 for Breaded Cheese Nuggets to $16.99 for Crab Cakes with Remoulade Sauce. All looked intriguing, but all of us were hungry for a cocktail and an entrée. After a short stint at the beautiful bar facing the lake, we headed outside.
Sunday Specials
Prime Rib $25.99
Roast Duck with Door Co. Cherry Sauce over rice stuffing $23.99
8 oz. Lobster Tail Dinner $25.99
Broasted Chicken $15.99
Chilean Sea Bass $25.99 was also offered on that beautiful Sunday evening, and one of your Supper Club Review Crew ordered said Sea Bass, declaring the sauce delicious and presentation just beautiful. Three Roast Duck entrees, all covered with a delectable Door County Cherry Sauce, were plated beautifully; one perfectly cooked filet with a side sweet potato topped with brown sugar; and a full rack of ribs (a huge portion) all added to the mellow ambience from our perch well above Lake Koshkonong.
Nightly Features
Friday 
Deep Fried Cod – 3pc $14.49 2pc $13.99
Broasted Chicken 4pc $14.99
Broasted Chicken-Fried Cod Combo $15.99
Baked Cod $15.99
Coleslaw, Baked Potato or French Fries (Substitutions extra)
Seasoned Filet with onion ring garnish $25.99
Saturday 
Seasoned New York Strip with fresh mushrooms $26.99
The Buckhorn has a full menu including a "Kid's Menu" and Sandwich offerings.
The Buckhorn's serving Hours are Thursday through Saturday from 5:00PM until close and Sundays from Noon until 9:00PM – located at 11802 North Charley Bluff Road, Milton, WI. The Buckhorn has been serving guests for over 80 years, on the shores of Lake Koshkonong. The Pope family have been your hosts since 1997.
Call For Reservations (608) 868-2653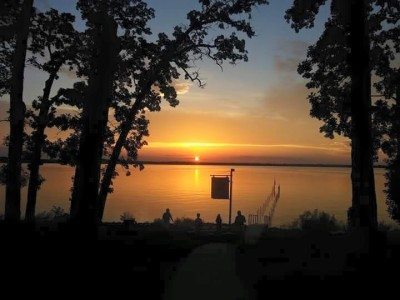 Next Month: Elias Inn Watertown,