A Staycation in Jefferson County
My husband and I have always lived by the saying "work hard, play harder." Then the pandemic hit. We were working harder than ever, but lost our outlet to keep it all balanced.  Travel was discouraged, entertainment venues were shut down, and events were cancelled. After a month of feeling sorry for ourselves, we said no more. There are plenty of safe activities to do in our city and within our county. We vowed to shake off the quarantine cobwebs and start living again.
Watertown/Oconomowoc Interurban Trail
We love being outdoors as a family, and luckily our recreational opportunities are plenty! We live within walking distance of the Watertown/Oconomowoc Interurban Trail, so I took a hike on the trail every day with at least one family member. My youngest son loved our walks as he brought his Pokémon Go app and captured Pokémon along the way. It was awesome to hear him ask to go for a walk! While on the trail, we saw circling hawks, heron, turtles, and even a herd of 8 deer! It wasn't only entertainment, it was restorative.
Brandt-Quirk Park
Another nearby trail can be found at Brandt-Quirk Park in Watertown. It has an awesome mix of hills and flat trail. A section of the park includes Storybook Trail. Storybook trail is approximately 1 mile in length, with a full children's book set throughout the trail in kiosks. Read a page, walk a length, read another page.  When our kids were small they couldn't wait to get to the next page, and never thought of the hike as exercise. The story changes often, so come back seasonally. Also at Brandt-Quirk Park you'll find a free 21-hole disc golf course. I haven't tried it yet, but it's a popular course and I'm always excited to see so many people enjoying it.
Aztalan State Park
On weekends we venture a little farther. One of the most memorable hikes we ever experienced as a family was at Aztalan State Park in Lake Mills. This National Historic Landmark contains one of Wisconsin's most important archaeological sites, showcasing an ancient Middle-Mississippian village that thrived between A.D. 1000 and 1300. Interpretive panels can be found throughout the site, filled with information about the village and the indigenous people that inhabited it. Visitors are permitted to climb the mounds and travel the groomed path that winds throughout the village. You will want to bring your camera to chronicle this hike.
Emma Carlin Trail
Sometimes we're looking for a challenging hike. We've made several trips to Palmyra to hike the Emma Carlin Trail. The trail goes through a hardwood forest with mostly hilly terrain that gets your heart pumping. We love it. The dense trees drown out the sounds of "reality," and it is so refreshing.
Glacial Drumlin Trail
Another favorite is the Glacial Drumlin Trail. I regret not having made it to this trail until 2020. It is so accessible, and offers a very different experience depending on where you start. Due to our home-base, we started in Sullivan and headed East. It didn't take long before we were enveloped in a canopy of trees. Our hike took place in fall, when only a few leaves still remained on the trees. The sights and smells of fall on a wooded trail should be experienced by everyone. This particular stretch has some marshy aspects, and we spotted a group of lounging turtles. Take your time and look around to make the most of your experience.
Rock River Trail
Hiking isn't our only outdoor recreation of choice.  We love to kayak! We had our kayaks out nearly every week on the Rock River, choosing shorter or longer distances depending on our schedules. Our stand-up paddle board (SUP) was also taken out regularly. It's a completely different experience than paddling in a boat. Our teenage son could spend hours on the SUP. As much as we enjoy a good hike, there is nothing like being on the water.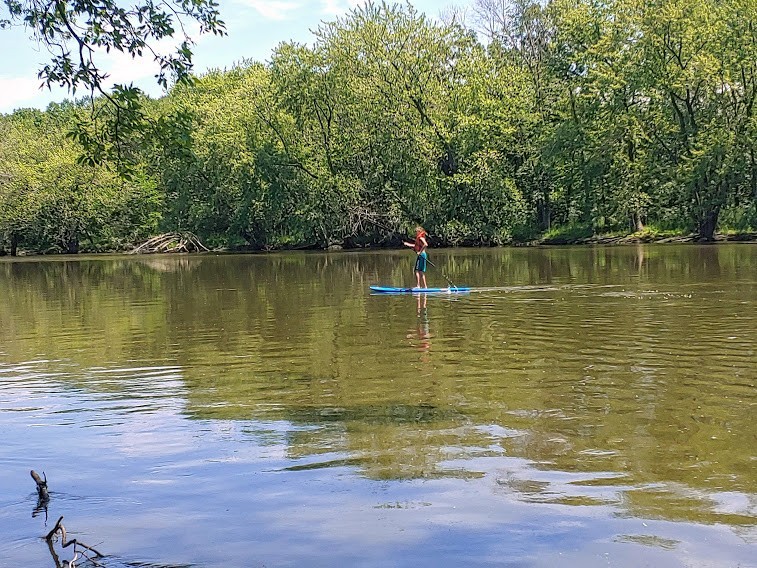 Winter Fun
This is just a taste of our adventures. We are spending winter on sledding hills, skating rinks, and cross-country ski trails. Jefferson County is full of them! If you have been lounging a little too long, it's time to shake off those quarantine cobwebs and start experiencing the refreshing outdoors again!
Here are some Watertown experiences to enjoy this winter.
Ice Skating:
CONDITIONS MAY NOT BE SUITABLE FOR SKATING. CONTACT WATERTOWN PARK & REC FOR CURRENT CONDITIONS.
Heiden Pond (Franklin and S. Third Streets, across from the Clark Park tennis courts)
Silver Creek Pond (North Water St)
Sledding:
Watertown High School (825 Endeavour Dr)
Riverside Middle School (131Hall St)
Cross-Country Skiing:
Groomed trails at Brandt-Quirk Park
Snowshoeing:
Brandt-Quirk Park Trails
Tivoli Island
Interurban Trail
Free snowshoe rentals through the Watertown Public Library with a Bridges Library System library card
Fat Tire Snow Biking:
Interurban Trail (trail is not groomed, be cautious of conditions)
Disc Golf:
The 21-hole Rock River Disc Golf Course is open year-round and is FREE to use!
*A vehicle admission sticker is required to visit state park system properties
View the Businesses Mentioned on This Page
Robin Kaufmann is the Tourism Manager for the city of Watertown. She eats, sleeps, and breathes travel in her personal and professional life. She is the voice of Watertown Tourism, and the Facebook specialist for Enjoy Jefferson County Tourism.