Hiking Adventures in Jefferson County
Walkers, joggers, and hikers have their pick of trails in Jefferson County. Looking for a trail to take a leisurely stroll? We have that.  Looking for a trail to enjoy as a family? We have that. Looking for a trail to test your endurance? We have that, too.
Emma Carlin Trail
With so many trails at our disposal, my family hikes nearly every week. One of our favorite spots is the Emma Carlin Trail. The trailhead is located in Palmyra, with parking, water, and toilets available. The trail goes through a hardwood forest with mostly hilly terrain. Three color-coded trails from 3.5-8 miles are available. All three sections are single-track mountain bike trails, and offer some level of difficulty. We haven't biked the trail yet, but it's a future goal. We have hiked all three trails, each providing a heart-pumping excursion set in a lush, natural forest. This trail is open to hikers and snowshoes in the winter. Park stickers are required.
Glacial Drumlin Trail
As much as we enjoy a vigorous hike, sometimes we're looking for something a little less taxing. In this case, we often choose the Glacial Drumlin State Trail. This trail stretches for 52 miles through farmlands and glacial topography. Due to our home-base, we often start in Sullivan and head east. It doesn't take long to be enveloped in a canopy of trees. This particular stretch has some marshy aspects, and we have seen all types of wildlife, including sun-bathing turtles. Take your time and look around to make the most of your experience.
Aztalan State Park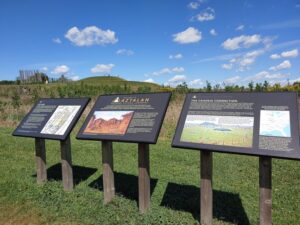 One of our favorite hikes is at Aztalan State Park in Lake Mills. This National Historic Landmark contains one of Wisconsin's most important archaeological sites, showcasing an ancient Middle-Mississippian village that thrived between A.D. 1000 and 1300. Interpretive panels can be found throughout the site, filled with information about the village and the indigenous people that inhabited it. Visitors are permitted to climb the mounds and travel the groomed path that winds throughout the village. Bring your camera to chronicle this hike.
Brandt-Quirk Park
Brandt-Quirk Park in Watertown is a great location to hike as a family. There are so many ways to enjoy this park. Take the hilly wooded path, enjoy the flat groomed path, take your leashed dog to the pet-approved area, and be sure to take your kids on Storybook Trail. Storybook trail is approximately 1 mile in length, with a full children's book set throughout the trail in kiosks. Read a page, walk a length, read another page. Our kids were always interested in getting to the next page, and never thought of the hike as exercise. The story changes often, so come back seasonally!
Camrock County Park
If you're looking for a day of recreation that includes more than just hiking, try Camrock County Park in Cambridge. This 422-acre park boasts three shelters, play equipment, hiking trails, a canoe/kayak launch, cross-country ski trails, a sledding hill (near shelter #3) and prairie restorations. There are also extensive mountain bike trails.
For additional trails and recreational opportunities, visit enjoyjeffersoncounty.com
Robin Kaufmann is the Tourism Manager for the city of Watertown. She eats, sleeps, and breathes travel in her personal and professional life. She is the voice of Watertown Tourism, and the Facebook specialist for Enjoy Jefferson County Tourism.