Business Travelers Find It All Right Here
Jefferson County is known for providing fantastic leisure opportunities, but what about our business travelers? The corporate traveler has a plethora of resources to make their Jefferson County experience extraordinary.  From plentiful WI-FI, to lovely lodging and healthy dining to a wide range of meeting spaces make Jefferson County your perfect home away from home (or office away from office).
Get Connected with Wi-Fi
Many of our coffee shops, diners, pubs and libraries offer free WI-FI as well as our hotels, B&B's and other lodging options.  Here are some local business who promote free Wi-Fi:
Cambridge:
Fort Atkinson
Johnson Creek

Johnson Creek Public Library
Starbucks

Watertown
Whitewater

Irvin L Young Library
University of Wisconsin Whitewater Campus
Community Engagement Center
Rest Easy
After a long day of networking and securing the deal, all you want to do is plop on your bed and relax.  We have plenty of lodging options including hotels, bed and breakfasts, vacation rentals and even camping sites. Innkeepers and hoteliers are a great resource to find fun things to do in your down time as well as surfing EnjoyJeffersonCounty.
Bartel's Beach Cottage, Lake Mills
Best Western Watertown & Best Western Plus Jefferson
Cambridge
Comfort Suites Johnson Creek
Cottage by the Mounds, Jefferson
Country Inn & Suites, Fort Atkinson
Days Inn by Wyndham, Johnson Creek
Holiday Inn Express & Suites, Fort Atkinson
Watertown

Katherine Holle House B&B – (bed and breakfast with all the comforts of home, including incredibly home-cooked meals)
Jesse Stone House B&B (historic B&B with stories galore regarding the home and antiquities inside)
Baymont by Wyndham
HSI Rentals (some short term rentals near UWW campus)
Sweat it Out
The beauty of traveling to Jefferson County are all of the opportunities for keeping fit including our park system with beautiful walking, running & biking trails, community gyms that offer daily passes or just walking around town.
Anytime Fitness: Locations in most of our communities (open 24/7 and has 4700 locations. Members can join in their community and use ANY of the 4700 locations when they travel)
Dynamic Health & Fitness, Cambridge (day passes)
 Whitewater
Meet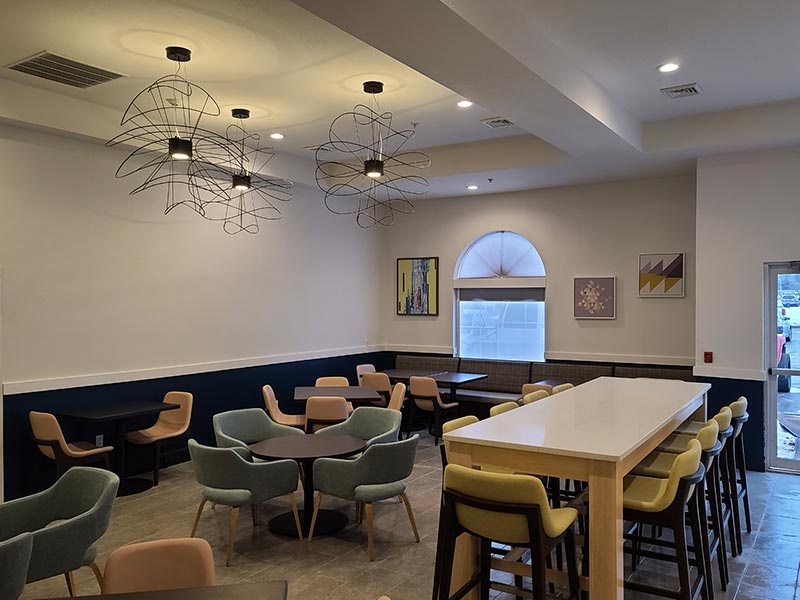 Best Western Watertown Dining Area
While on business, you may need to host trainings, meetings and Jefferson County offers plenty of accessible meeting spaces! Many of our hotels offer lovely meeting rooms.  Additionally, some other meeting space options include:
Cambridge: Galleria 214, Cambridge Market (co-working & meeting), Cambridge Winery & the Cambridge Community library
Fort Atkinson: Dwight Foster Public Library, The Fort Atkinson Club Community Center
Jefferson: Woolen Mills Event Center, Jefferson County Fair Park, Jefferson Public Library
Johnson Creek: Hi-Way Harry's, Comfort Suites Johnson Creek Conference Center, Johnson Creek Public Library, Johnson Creek Community Center
Lake Mills: L.D. Fargo Public Library
Palmyra: Powers Memorial Library
Whitewater: Irvin L. Young Memorial Library, Community Engagement Center, University of WI-Whitewater,
Watertown: Watertown Public Library,
Waterloo: Karl Junginger Memorial Library
Eat Healthy
We are known for our fabulous fish fries, but we also have many healthy dining options. You can always grab something from our many grocery and convenient stores, but why not let someone else do the cooking? Here are some great dining options:
Cambridge: Cambridge Market Café (soups & salads, Wi-Fi & meeting room), Cambridge Winery (small plates), Sprouting Acres, LLC (summer pizza on the farm), CC Sandwiches (great lobster roll), Sports Page Bar & Grill (great place to watch a game, great pizza), Keystone Grill
Fort Atkinson: Simple Life Country Store, Jones Market, Koshkonong Mounds Country Club, Magiami Italiano, Beauty & the Bean, Paddy Coughlin's Pub, Good 2 Go
Jefferson: Stable Rock Riverfront Winery & Distillery
Johnson Creek: Hi-Way Harry's, Pine Cone Restaurant & Bakery, Creek Nutrition
Lake Mills: Lewis Station Winery
Whitewater: The Fuzzy Pig, The SweetSpot Café, Jessica's Restaurant, Center Street Café, Taco Fresco, Second Salem Brewery, 841 Brewhouse, Fanatico, Binggs, Cozumel, Rick's Eastside
Watertown

Zwieg's Grill – (a must-stop. Voted one of the 101 best burgers in America, people travel from all over to experience the double cheeseburger).
Mullen's Dairy Bar (fresh burgers, sandwiches, and soup, and of course their famous homemade ice cream)
Harvest Market  (located at Watertown Regional Medical Center, it is a very popular spot for a fresh,
healthy meal. Catering to any diet, they fix food from-scratch and on request).
Sake House – fantastic Japanese sushi)
Two Sisters Café  (huge menu with breakfast available all day)
Amado Jr's (fun, local favorite conveniently located on Main Street)
Bank on it!
Need to do some banking while on business?  Here are some local trusted establishments:
Avestar Credit Union, Waterloo
Badger Bank, Cambridge, Jefferson, Johnson Creek, Fort Atkinson
Farms & Merchants State Bank, Waterloo
First Citizens State Bank, East Troy, Palmyra, Whitewater
Fort Community Credit Union, Fort Atkinson
Greenwoods State Bank, Lake Mills
Business Services
You may need help with your presentation, website, PowerPoint or just need some copies made.  Here are some establishments who can help:
Jennifer Creative, Germantown
Jefferson Area Business Center, Jefferson
Fun with Friends
Impress your colleagues with some fun activities after work:
Fireside Theatre
Tasting at Dancing Goat Distillery
Breath Salt & Sauna
Koshkonong Mounds Country Club
Lewis Station Winery
Cambridge Winery
Hoard Historical Museum
Dog & Shrub Distillery
Stable Rock Riverfront Winery & Distillery
Charge Up
Need to charge up your electric vehicle? Here's a link to find the nearest charging station.
Many have discovered in recent years that we can work just about anywhere.  Why endure the hustle and bustle when we can work in Jefferson County where you can get the job done, then relax and unwind?
Carol Sapienza is the board Secretary of the Jefferson County Tourism Council representing Cambridge & Oakland.