Christmas in the Village: The Spirit of the Season is in Johnson Creek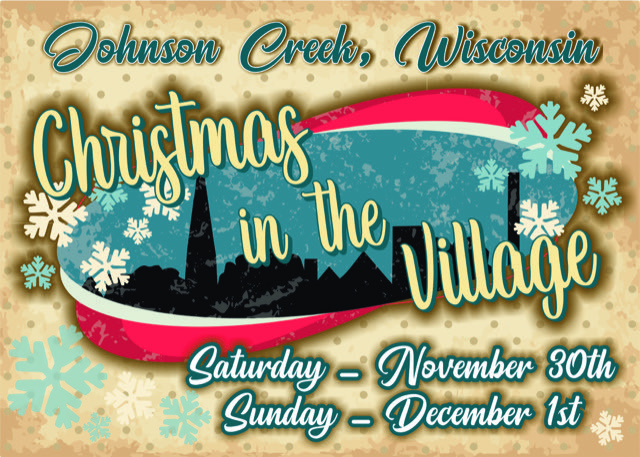 Happy Holidays from Johnson Creek and Jefferson County, Wisconsin!
This weekend, the Village of Johnson Creek turns into a winter wonderland, full of the holiday spirit! Known for its perfect location between Madison and Milwaukee, Johnson Creek happily shares their small-town charm with big ideas with residents and visitors year-round.
All this weekend events are on our tourism website and we encourage you to check out all the holiday fun this weekend, including these highlighted events:
Thanksgiving, Black Friday, & Weekend Hours at Johnson Creek Premium Outlets
For all you holiday bargain shoppers, the Johnson Creek Premium Outlets have the following Thanksgiving, Black Friday, and weekend hours:
Thursday, November 28 (Thanksgiving Day):  6pm to Friday morning at 2am
Friday, November 29: 6am to 10pm
Saturday, November 30: 8am to 10pm
Sunday, December 1: 9am to 8pm
Something Special from Wisconsin 2nd Annual Holiday Market
Saturday, November 30 – Sunday, December 1, 9am-2pm
Johnson Creek High School, 455 Aztalan Street
Come and experience the 2nd Annual Something Special from Wisconsin event to celebrate Wisconsin's finest products and services during the holiday season. More than 50 vendors will be showcasing their great Something Special from Wisconsin products…all great holiday gift ideas! Visit Berre's Brothers Cafe event website for more information. Fee $2, children 18 and under are free.
Crossroads Vintage Christmas
Saturday, November 30, 9am-4:30pm
Sunday, December 1, 9am-3pm
Johnson Creek Historical Society, 110 Aztalan Street
Enjoy Vintage Christmas, hosted by the Johnson Creek Historical Society, where you can visit with Santa from circa 1860s, when he was introduced to the United States. A variety of Christmas trees from a local tree farm will be available for sale in a recreated old-fashioned tree lot, along with live evergreen sways, wreathes, and holiday items. Stop in and share some holiday cheer with free homemade cocoa, coffee, and cookies and check out the gingerbread contest. To help the community, they will be collected food items for the local food pantry. The event is free and open to the public.
Friends of the Johnson Creek Public Library Holiday/Craft Vendor Fair
Saturday, November 30, 9am-3pm
Johnson Creek Elementary School, 305 Milwaukee St, Johnson Creek
Join in on the holiday fun and visit 34 different crafters, artisans, and vendors selling their wares; including Author Greg Renz of Lake Mills. There will also be a book sale, bake sale, and cafe hosted by the Johnson Creek High School Culture Club to fund raise for their trip to Spain in 2020. This event is open to the public. Please visit the library website for information on vendors and fees.
Johnson Creek 3rd Annual Holiday Tree Lighting
Sunday, December 1, 2019, 3-5pm
Veteran's Park, 121 Lincoln Street
A winter wonderland in Johnson Creek! Horse drawn wagon rides (weather permitting), warm refreshments, baked goods, music, and Mr. & Mrs. Claus are on hand to celebrate the lighting of the tree. The event is free and open to the public. Come join us for this wonderful family-friendly tradition.
There are more deals throughout the Village this weekend, including free 5-minute infrared sauna and 5-minute salt therapy sessions at Breathe Salt & Sauna on Saturday, November 30 from 10am-2pm, half-price appetizers at Hi-Way Harry's Restaurant with the purchase of a meal on Saturday, November 30 from 2-6pm, 20% off in-store apparel and accessories at Rob's Performance Motorsports on Saturday, November 30 from 9am-2pm, and more! So be sure to check out the full listing of events on the Johnson Creek Tourism website
From all of us in Johnson Creek and Jefferson County, we are thankful you choose to spend your time with us, and we wish you all a safe and happy holiday season!
Katie is the President of the Jefferson County Tourism Council and the Tourism & Communications Director for the Village of Johnson Creek. Katie has been in public relations and marketing for over 25 years and worked with some of Milwaukee and Northern California's most sought after tourism attractions such as the Milwaukee Brewers, Milwaukee Public Museum, Milwaukee Betty Brinn Children's Museum, Milwaukee Chamber Theater, and the Sonoma County Museum. Her agency work also afforded her the opportunity to work with an array of clients including McDonald's, Coca-Cola, Gitano Jeanswear's sponsorship of Shania Twain's Tour, and many more. She is also an author, having penned the children's book, Balthazar the Pink, with her two sons. She is big on partnerships and brainstorming and loves her work with Johnson Creek and the Jefferson County Area Tourism Council.
www.visitjohnsoncreek.org
920-699-2296, 105
katien@johnsoncreekwi.org