Discover (Jefferson County) Wisconsin
In 2020, four Jefferson County communities were featured on the nation's longest-running tourism program, Discover Wisconsin. While 2020 wasn't a banner year for travel, it was a time for planning future adventures. And now you get another chance to check out these Jefferson County communities when Discover Wisconsin re-airs these fantastic episodes. Click here to find a full listing of Discover Wisconsin episodes and a broadcast schedule to find stations near you. 
Check out the Fort Atkinson episode where you can discover the Midwest's most-popular dinner theater at the Fireside Theatre, learn historic and cultural moments at the Hoard Historical Museum, explore outdoor adventures at parks, and on trails and waterways including the Glacial River Trail, Lake Koshkonong, and Haumeron's Pond, enjoy tasty eats at Jones Dairy Farm & Market, experience a delicious Wisconsin supper club experience at the Stagecoach Inn, and much more! Visit Fort Atkinson's Chamber of Commerce, for more information on all there is to see and do in Fort Atkinson, or click on our Fort Atkinson link
The Johnson Creek episode is jam-packed with great experiences to be had. You'll discover Wisconsin's number one truck stop with unbelievable homemade bakery goods at the Pine Cone Restaurant, a Frank Lloyd Wright-inspired steak house designed by one of the designer's proteges (James Dresser) at Hi-Way Harry's, dozen's of name-brand stores to get your shopping fix at the Johnson Creek Premium Outlets, three major motorsports dealers, and plenty of outdoor adventures on trails, the Rock River, and at Aztalan State Park. Check out Johnson Creek's Tourism website for more info!
Being a city in the middle of two counties (Jefferson & Dodge), Watertown has a rich and unique history, including housing the nation's first Kindergarten at the Octagon House. In this episode you can discover this and more when you explore the wonders of the Rock River Water Trail (a nationally recognized water trail), experience one of America's best burgers at Zwieg's Grill, get active at one of their 30 parks, and have some fun at their annual Riverfest event with live bands and food (this year it's currently scheduled for August 12-15). Check out Watertown's Chamber of Commerce website to discover more great things to do in Watertown.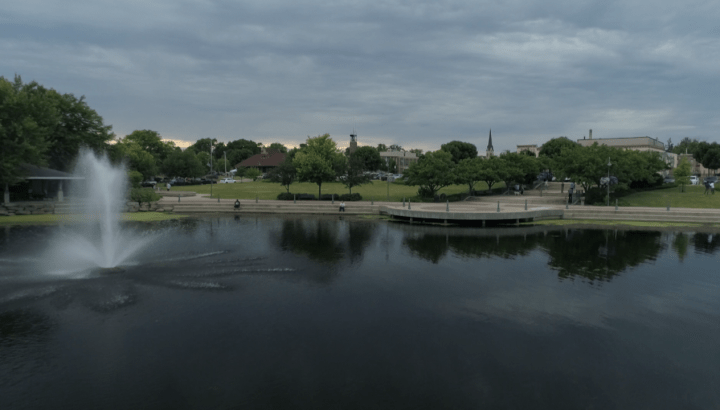 Home of the University of Wisconsin-Whitewater, Whitewater is a college town with lots to discover in this episode, including their rich arts, history, dining, and outdoor recreation options. Check out how to soar at Wisconsin Hang Gliding, get your riding fix at Quiet Hut Sports Bicycle Shop, enjoy a farm-to-table experience at The Black Sheep restaurant, go hog wild with a delightful day experience at The Fuzzy Pig, and more! Visit Discover Whitewater's website to find more events and adventures to plan your next Whitewater trip.
Jefferson County has so many great communities with wonderful experiences for you to enjoy. Make it a day, night, weekend, or week to discover everything we have to offer. Check out our current calendar of events and our explore page to find just what you're looking for. And don't forget to enter our Look for the Answers Contest for your chance to win a Jefferson County restaurant gift certificate.
Katie is the President of the Jefferson County Tourism Council and the Tourism & Communications Director for the Village of Johnson Creek. Katie has been in public relations and marketing for over 25 years and worked with some of Milwaukee and Northern California's most sought after tourism attractions such as the Milwaukee Brewers, Milwaukee Public Museum, Milwaukee Betty Brinn Children's Museum, Milwaukee Chamber Theater, and the Sonoma County Museum. Her agency work also afforded her the opportunity to work with an array of clients including McDonald's, Coca-Cola, Gitano Jeanswear's sponsorship of Shania Twain's Tour, and many more. She is also an author, having penned the children's book, Balthazar the Pink, with her two sons. She is big on partnerships and brainstorming and loves her work with Johnson Creek and the Jefferson County Area Tourism Council.
www.visitjohnsoncreek.org
920-699-2296, 105
katien@johnsoncreekwi.org