Midwest Fire Fest Blazing Back!
Published On: Tuesday, June 28, 2022
–
By Carol Sapienza
–
Categories: Blog, Event News and Reviews
–
Tags: artists, Cambridge, Dead Horses band, fire dancers, food truck, live music, Midwest Fire Fest, pottery, sculpture
–
After a two year hiatus, Midwest Fire Fest is roaring back on 7/23 and 7/24 with some hot acts, fire artists and the Saturday evening reveal of a huge 7 foot sculpture being fired onsite!  As in past years, the 2 day celebration also offers fire dancers, beer tent, fantastic food trucks, a wide variety of artists, live music and so much more.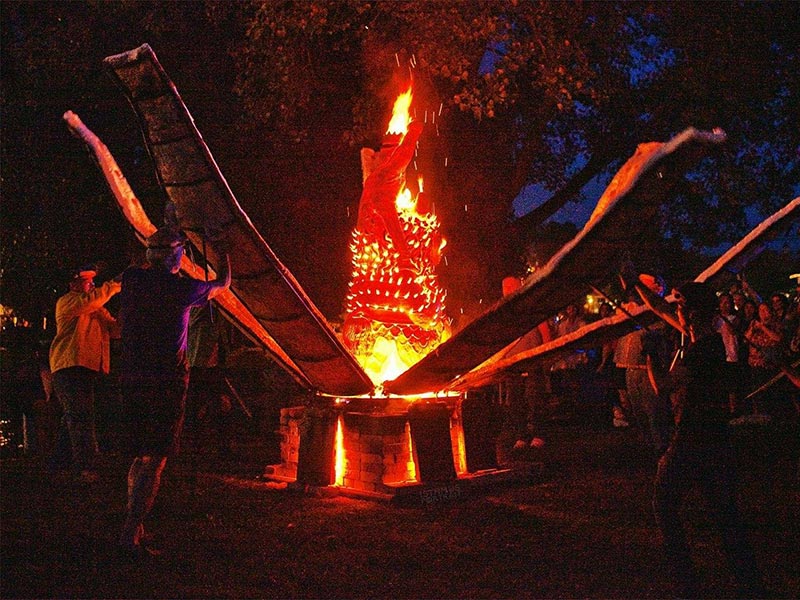 There will be a variety of live music throughout the two-day event.  Saturday night's headliner is Milwaukee based Dead Horses.
Artists from around the country come together at Midwest Fire Fest to share their processes and creations.
The festival grounds are at West Side Park on the banks of Koshkonong Creek right in downtown Cambridge, Wisconsin.  Don't miss the hottest festival in the Midwest!
Carol Sapienza is the board Secretary of the Jefferson County Tourism Council representing Cambridge & Oakland.
Carol Sapienza

https://enjoyjeffersoncounty.com/author/carol-sapienza/
PLEASE FOLLOW & LIKE US! :)