Fish Fry Review Crew – The Edgewater Supper Club – Jefferson, WI
Jefferson County Fish Dish Review Crew  
The Edgewater Supper Club
N3522 County Highway K
Jefferson, WI 53549
920-674-9942
www.theedgewatersupperclub.com
Our Fish Fry Review Crew visited The Edgewater Supper Club after hearing some great things about the food and new owners from other happy customers.
We were not disappointed!
Our meal started off with good rye bread from BonTon Bakery in Jefferson, followed by a round of the Edgewater Clam Chowder. Oh my! The chowder was so good – so creamy – so buttery… In fact, one of our Review Crew members called in an order for a HALF GALLON of said Clam Chowder to be picked up the following week. Yes, it was that good…
The fish options on the night we arrived (each Friday might have slightly different specials) included Fried Jumbo Perch, Baked or Fried Cod, and Salmon with Roasted Pecan Butter. Our group was small that night – just three – and two of us ate the perch (yes, it was truly "jumbo!"), while the third reviewer ordered the salmon.
The perch was delicious – flaky and tender – but it was the salmon and accompanying roasted pecan butter that stole the show. The reviewer who ordered this dish declared it to be the "…best salmon I've ever eaten!" as well as "My favorite dinner of our fish fries to date!"
Now THAT'S a resounding recommendation!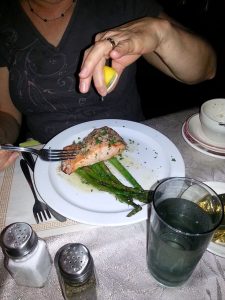 The Edgewater Supper Club prepares meals with local ingredients, and many local talents – such as BonTon Bakery and Morsels by Marly – contribute to the menu. Although the Edgewater did not have any pies from Morsels by Marly that evening, we will be back to get our selection soon!
The Edgewater Supper Club reopened in 2013, thanks to Bill and Vicki Millis from Under the Oaks farm in Milton. The restaurant is located on the Rock River between Fort Atkinson and Jefferson on Highway K.
Until we meet again,
Your Fish Dish Review Crew
~
Don't forget to enjoy our prior reviews and GO EAT SOME FISH IN JEFFERSON COUNTY!!
Katie was the Executive Director of the Lake Mills Main Street Program from 2011 to 2019 and was the Secretary for the Jefferson County Tourism Council. In 2019, she retired to explore a new fashion degree and travel throughout the world. Katie was also a writer and contributed a great deal of copy for our website and printed guide. She was a great asset to our organization and we'll miss her!