Memorial Day Weekend Fun Around Jefferson County
Hello, warm weather, and yay for a holiday weekend we love spending outside! Aside from the beloved backyard BBQ, this list of activities in the Walworth and Jefferson County area will deliver a delicious Memorial Day weekend, fun for the solo traveler or the whole family.
1. Bike the 2 Rivers Bicycle Cruisers Route
Strap those bikes to the back of your car and head to 2 Rivers Bicycle in Fort Atkinson for a 14mi bike loop. 2 Rivers says it's a "flat route to start with a ride down hilly Pond Road to get back." Grab food before, during, or after your ride at Island Bar & Grill or Brickhouse Pizza Pub. Don't have bikes? 2 Rivers has rentals!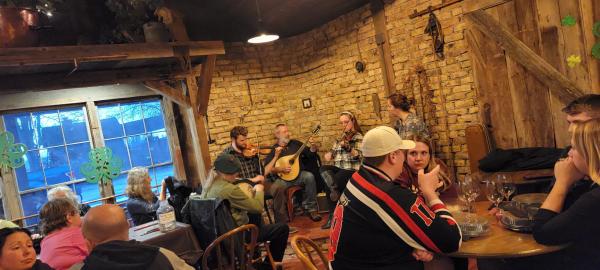 For an eclectic evening over your Memorial Day weekend, enjoy "fine dining in a cozy atmosphere" at Whiney's. First, pop into The Fuzzy Pig Antique Mall to peruse or purchase unique gifts. Then relax with wine, wood-fired pizza, and live music at Whiney's to round out the night. Keep your eyes peeled for adorable farm cats and a peacock!
Travelpulse.com says that the best activity in Wisconsin is hiking, particularly the Ice Age Trail. We couldn't agree more. Hiking the Ice Age Trail makes almost every list of must-dos we create. Not only do you get a glimpse of the results of glaciated land, but you also never feel so close to the natural world. Whitewater and the surrounding area's trails offer a reprieve from the bustle. Check out one or a few of these Walworth and Jefferson County segments: Scuppernong, Blue Spring Lake, Blackhawk, Whitewater, and Clover Valley.
4. Celebrate Family Lakeside or Riverside
Photo credit: Turtle Lake Tap & GrillMemorial Day is our first chance at taking time to relax and take in our wonderful waterways while eating, drinking, and socializing with friends and family. Whether you set up a picnic in one of the many state parks or find a local restaurant with a lakeside patio you are sure to enjoy great views! Check out the visitor's information for all of our communities to find your perfect spot for a sunset cocktail.
5. Camp!
Nothing says Memorial Day weekend like camping out. Pack your best gear (be sure to include that grill!) and try one of these area campgrounds:
6. Visit Old World Wisconsin's new Brewhouse
Looking for something a bit slower-paced? Historic Old World Wisconsin has the perfect event for you. Enjoy a four-course meal with pairing notes. Then, tour the new Brewhouse and learn what they have planned for it in the future!
Grab your lawn chairs, picnic blankets, and bug spray, round up the kids, and head to Palmyra for a day of fun. Spend your Saturday enjoying food, drinks, music, kids events, raffles, and fireworks at dark. Free to attend.
8. Boat Whitewater Lake
Love being on the water? Experience leisure on your boat (or rent from JNTs Parkside Marina!) out on Whitewater Lake. Surrounded by the gorgeous Kettle Moraine State Forest and stunning lake houses, you'll get a great mix of nature and holiday festivities. Take a swim at Whitewater Lake Beach, take quiet time at Dr. O.R. Rice Picnic Peninsula, or get sweet treats at the Marina! Don't forget your state park pass!
9. Tee Up At An Area Golf Course
Warm weather, golf, and a holiday weekend go together like 1, 2, 3. Throw on a hat, slather on the sunscreen, and check out one of these beloved courses:
Cheers to an active and festive kick-off to summer!