Restaurant Review Crew – Blue Moon Pizza – Lake Mills, WI
Blue Moon Pizza*Pasta*Creole Restaurant
Address: 117 S Main St, Lake Mills, WI 53551
Phone:(920) 648-3405
Hours:
Tuesday through Saturday: 4:30-9:00pm
Sunday: 4:30-8:00pm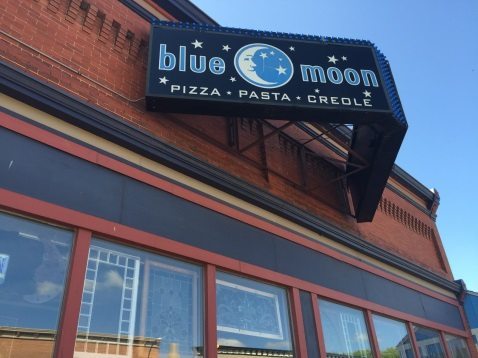 So you got your…
Moon River,
Man in the Moon,
Moonlight Sonata,
Dancin' in the Moonlight,
Moon Shadow,
Bad Moon Rising,
Moondance,
Fly Me To The Moon,
Brother Wolf Sister Moon,
Bang! Zoom! To the moon Alice!
It's Only A Paper Moon,
Carolina Moon,
Moon River,
Moonlight Bay,
By The Light of the Silvery Moon,
How High The Moon,
Shoot The Moon,
MoonPie,
Goodnight Moon,
Moonwalk,
The Dark Side of the Moon,
Man On The Moon,
"I'll lasso the moon for ya Mary!",
Moonstruck,
Sailor Moon,
Dark of the Moon,
Moonraker,
Apollo Moon Landing,
New Moon,
Full Moon,
Blood Moon,
Man In the Moon,
Warren Moon
The ever popular Harvest Moon
…and there are I am sure, many more moon references YOU could remember if you put your mind to it.
But the only MOON you need to remember – just ask anyone in Lake Mills, Jefferson County, Wisconsin – is Blue Moon Pizza*Pasta*Creole Restaurant for the best, tastiest pizza here on the earth or on the moon itself. Who knew? Lake Mills? Blue Moon!
AMBIENCE & LIBATIONS
Blue Moon's spacious dining room is large, so you can usually get a table in a short time. Spend a little time unwinding at the beautiful, hand carved bar. Listen. Great music playlist. Blue Moon beer is, of course, served crisp and cold from a sparkling clean tap. Yeah. That orange slice is nice. A splendid wine list complements the entire menu. A full lineup of mixed drinks awaits you. Soft drinks, just like the beer, are available by the pitcher. Sprecher Root Beer by the bottle is a special treat. Chill out. This place is mellow. Then look  around. Wow. The owner Sherrie's late husband Mark was quite a collector. Check out that stuff adorning the walls and shelves. Eclectic. The beautiful, high tin ceiling is a thing of beauty that in itself will amaze you

SHERRIE & MARK BUNKER
The welcoming vibe is a result of the owner herself, Sherrie Bunker (America's Sweetheart) who most nights will greet you, seat you and ask how things are going throughout your evening of deliciousness.
Sherrie will tell you that she and Mark got married under a Blue Moon, hence the name of the place. Mark sadly passed away February 10, 2015, but Sherrie proudly states that "Blue Moon is still going strong with Mark's great recipes and God's continued blessings."
By the time you have checked out the surroundings, your table is ready. Families, couples, large and small groups, they all show up – and a lot more often than "once in a Blue Moon!"
SALADS & APPETIZERS
Salads are crispy crunchy. The home-made garlic parmesan dressing is spot-on and specialty salads abound. Apps? Mozzarella cheese wrapped in egg roll skins, St. Louis inspired toasted ravioli and garlic bread with cheese are the most popular. Any of The Moon's high quality apps will delight your taste buds. But here at Blue Moon, Pizza is King.
PIZZA
Blue Moon's handmade pizza crust is chewy, crunchy on the bottom, perfectly–baked medium thick; or opt for the thin and crunchy crust, fast becoming a customer favorite. Gluten free is available upon request. The ample tomato-ey goodness with just the right zing of spice-in-the-sauce sings. If you like great sausage, the hand- torn sausage (sourced from Greco's in Waukesha) has just the right amount of fennel and garlic mixed in, making this meat something to linger over and truly savor. Never skimpy, pepperoni lovers will be impressed. Only fresh mozzarella is used, and plenty of it, so you don't have to order "extra cheese" unless of course you are a total cheese junky like most Wisconsinites.
Talk about your other ingredients: the mushrooms are fresh, not canned. You like garlic? It is so good, hey trust me, a vampire will not get near you for a week! Order bacon and it is crispy and plentiful. Shrimp, hamburger, pineapple…the list goes on…
SPECIALTY PIZZAS
My wife orders the Veggie Bomb and it comes loaded with the perfect amount of those veggies she loves. Bourbon Chicken Pizza with Jim Beam Bourbon Sauce will get your attention and might I mention the Spaghetti Pizza? It sounds just plain weird, but wait 'til you try it. OMG!
STAFF
Sherrie suggest calling ahead if you are short on time, as pizzas are made fresh to order and just take extra time. The Blue Moon staff will make every effort to accommodate.
The staff takes great pride in their preparation. If you are picking up a take-out, you can see most of the kitchen operation. Everyone is so friendly. The chef wishes me to remind you to check out their new floor in the kitchen. Let you in on a little secret: it doesn't take much to make the chef happy!
CREOLE & PASTA
Creole is another specialty of the house, a shout-out to Sherrie's husband Mark who continues to pass along his New Orleans legacy dishes like Weezy-Anna Shrimp, Blue Moon Creole with andouille sausage, killer Pasta Primavera dishes and other tasty Bourbon Street soul food.
FRIDAY features hand-breaded, deep fried Pollock with all the fixin's done right.
Yup, dine in or take out, you are certain to be Moonstruck, Over The Moon, and Dancin' In the Moonlight when you meander on in to Blue Moon in Legendary, Lovely Lake Mills, Wisconsin.
Y'know, you could order a Blue Moon Pie and then take a short stroll. If you're lucky, you might catch the moon reflecting off the gentle waters of Rock Lake.
Let's see: "Blue Moon Over Rock Lake & In My Tummy"
Sounds like a love song.
That would be heaven, right Mark?
Your Jefferson County Tourism Council Pizza Restaurant Review Crew
MOON NOTES
"Once In a Blue Moon" Definition
The commonly accepted definition of a Blue Moon is simple: it is a full moon that rises twice in one month.  It is said that blue moons happen every 33 months or about every 3 years. This relatively rare occurrence has spawned the saying "once in a blue moon".
"Blue Moon" by The Marcells
Katie was the Executive Director of the Lake Mills Main Street Program from 2011 to 2019 and was the Secretary for the Jefferson County Tourism Council. In 2019, she retired to explore a new fashion degree and travel throughout the world. Katie was also a writer and contributed a great deal of copy for our website and printed guide. She was a great asset to our organization and we'll miss her!