Restaurant Review Crew – Elias Inn in Watertown
Elias Inn
200 North 2nd Street
Watertown, WI 53094
920-261-6262

Our Dinner Review Crew met at Elias Inn in Watertown on a Tuesday night this month.  Elias Inn is located at 200 N. Second Street, just a block east of the Rock River and a block north of Watertown's Main Street.  The restaurant looks like a Bavarian Inn both inside and out.  The entrance takes you through their bar, which has many tables and booths. We ordered our drinks at the large wall-long bar while waiting for the whole group to arrive, and marveled at the big game trophies mounted on the walls.
As soon as all eight of us were in attendance, they seated us in the cozy dining room, which resembled a Bavarian Lodge with large exposed beams and a fireplace.  Patrons can choose to be seated at a booth or a table.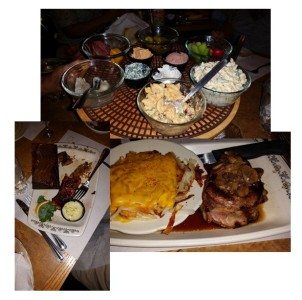 After explaining their specials and placing our orders, our waitress brought out the infamous lazy susans and bread baskets.  The bread baskets contained warm rolls as well as packages of warm breadsticks and crackers.  On the lazy susan were four spreads for the breads–spinach, cheddar, crab, and braunschweiger.  There were also containers providing a selection of pasta salads, herring, salami and cheese, bread and butter pickles, and crudités.
The next course was a choice of tomato juice or cream of asparagus soup.  The soup was hot and light but creamy.  The salad course followed with a choice of a fresh garden salad or cottage cheese.
Three specials under $20 were offered on this Tuesday night: Salmon on a Plank, Steak and Stack, and Breaded Shrimp.  Our crew ordered each of these specials.  The steak was done to perfection, tender and juicy with a stack of lightly breaded haystack of onions on top.  The salmon was also tender and juicy.  The shrimp dishes were declared tasty and the scallops and orders of a beef filet and a ribeye were all beyond satisfactory.  There was a choice of four potatoes to accompany the entrée: baked, French fries, garlic mashed red, or hash browns.
After the meal we went back to the bar area to enjoy after-dinner drinks.  Elias Inn has outstanding Brandy Alexanders and Grasshoppers, and our group of eight share one of each of these. Our spoons were at the ready until the beer-stein filled apres dinner drinks arrived to top off our wonderful meal.
Reservations are recommended at Elias Inn, except on Fridays for their famous fish fry. The best bet is to get to Elias early – it's a popular place!
Katie was the Executive Director of the Lake Mills Main Street Program from 2011 to 2019 and was the Secretary for the Jefferson County Tourism Council. In 2019, she retired to explore a new fashion degree and travel throughout the world. Katie was also a writer and contributed a great deal of copy for our website and printed guide. She was a great asset to our organization and we'll miss her!