Restaurant Review Crew – Frederick's Supper Club (Milton)
FREDERICK'S SUPPER CLUB
118 MERCHANT ROW
MILTON, WI 53563
608-868-2966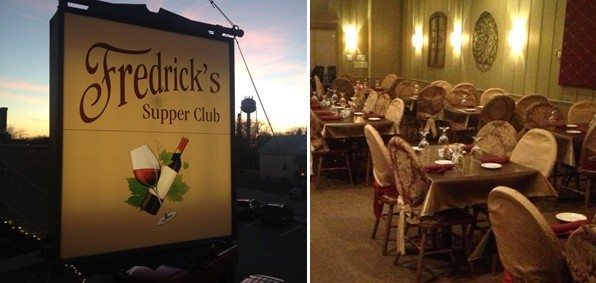 Prime Rib nightly, Fish Fry Wednesdays and Fridays, Fresh Seafood and Steaks
https://www.facebook.com/FredricksSupperClub 
Your Jefferson County Tourism Council's Supper Club Review Crew's first foray to a restaurant directly adjacent to but outside of Jefferson County was a long time coming. Some in our group wished to remain pure, wanting only Jefferson County eateries to be represented in our reviews. But sometimes it is good to think/eat outside the box/county. Majority ruled, as the by-laws were tweaked to allow the words "adjacent to" to be added. And we were not disappointed on a recent late winter Saturday night.
Meet Frederick's Supper Club…just barely outside the old sod of Jefferson County in Milton Junction – Rock County, Wisconsin.
Frederick's opened for business on August 1, 2012. The interior features widely spaced tables complemented by a long bar and a few tables. The bar is successfully separated from the main dining room by the ingenious use of a half wall. Subdued, tasteful lighting highlights southwestern colors and a thoughtful combination of mirrors and artwork that can only be termed eclectic, all-in-all creating a pleasant, low key ambiance.
Our reservation for the six of us was ready upon our arrival and we were seated promptly. Our waitress was jammed with other diners, but stopped momentarily uttering the perfect words: "be right with you folks" – then husted back to the kitchen. I get antsy if not greeted in a timely manner, and our waitress professionally "touched base." True to her word, drinks and a lone appetizer – The Bacon Wrapped Prime Rib – were ordered and we settled in.
The tasty Prime Rib appetizer, six pieces of meat surrounded by bacon was complemented by horseradish sauce. We all had a bite along with the complimentary bread basket with cinnamon flavored or regular butter as accompaniments, a nice touch.
Cocktails were ample and my Old Fashioned was nicely rendered.
Clam chowder was on the Saturday menu – buttery, creamy and not floury, it was described as delicious. My wife ate it all, but not before allowing me to taste. The house salads were fresh and the dressings delicious, but I secretly wished I too had ordered the clam chowder.
New York Strip, Filet Mignon, Prime Rib and Salmon were sampled as main dishes. The salmon had a bourbon glaze that caused the salmon to be eaten before anyone else had a chance to taste it. Must've been pretty good! Both cuts of steak were juicy, well-seasoned and perfectly rendered. They cut easily. The Prime Rib was flavorful and cooked to order. Mushrooms and onions complemented the meats well.
Sides included baked potato, smashed skin-on red potatoes, wild rice or broccoli.
Crème brulee finished our trip to Frederick's with creamy sweetness.
The facility, including rest rooms, were clean and tidy. Prices did not break the bank.
As we all bundled against the late winter night air (or was it early spring?) feeling cold on the outside, we were warmed on the inside knowing we'd be back to Frederick's Supper Club…even if it IS outside of Jefferson County!
Watch for our next Supper Club review in next month's JCTC Newsletter!
As Winston Churchill once opined: "I am easily satisfied – with the very best!"
Dine well!
Your Jefferson County Tourism Council's Supper Club Review Crew – eating and reviewing our way through Jefferson County – one restaurant at a time…
Katie was the Executive Director of the Lake Mills Main Street Program from 2011 to 2019 and was the Secretary for the Jefferson County Tourism Council. In 2019, she retired to explore a new fashion degree and travel throughout the world. Katie was also a writer and contributed a great deal of copy for our website and printed guide. She was a great asset to our organization and we'll miss her!