Restaurant Review Crew – Soular Pizza Grill – Waterloo, WI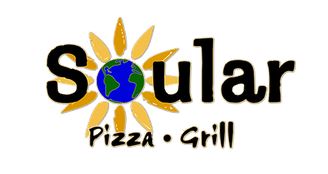 Soular Pizza Grill
1003 North Monroe Street
Waterloo, WI 53594
Hours:
Monday: 11am-7pm
Tuesday: closed
Wednesday through Sunday: 11am-9pm
www.soularpizzagrill.com
menu: http://soularpizzagrill.com/menu.pdf
920-478-4441
With a song in our hearts and pizza on our minds, your Jefferson County Pizza Review Crew headed north on Highway 89 to Waterloo, WI, home of the Soular Pizza & Grill. Not only did we have a great meal, but we also had a great time, thanks to our singing waitress (with some help from one of our group who likes to sing) and the gracious owners who put up with our silliness.
The first thing we all noticed as we stepped into the dining room was the floor. Yup, a repurposed hardwood gym floor had been installed and was an immediate conversation item. We were told it came from a gym somewhere in Illinois.  Interesting as the floor was, we also noted that the walls were old barn wood and hung with tasteful artwork made by local artists.
The beer selections were Wisconsin-local. Tasty bottles were delivered and several were consumed. We particularly liked the beer from Arena, Wi. The wine selection was limited, but the owners are planning on adding several more wines to their menu, and the wine they did offer was wonderful – coming from Lewis Station Winery in Lake Mills, WI.
We ordered two appetizers – the stuffed mushrooms and the vegetarian balls. Both were scrumptious and took the edge off of our hunger. Both came with accompanying sauces. The vegetarian ball sauce had a real kick – spicy!
It seems like everyone had a different kind of pizza. Crust choices were house pan style or thin crust. Both held the ingredients well, and both crusts received high marks from our group. The fresh mozzarella cheese was plentiful and delightfully stringy. Enough sauce covered the pie and all ingredients were simply top notch. Some had ham, others sausage. Plenty of pepperoni and a variety of fresh vegetables graced the pies. At one time, each person was tasting a different pizza than their own, with many saying: "I really like mine, but next time I will order what YOU are having!"
Soular owners Kevin Pickering and Nikki Spoon were happy to chat about the solar panels on the roof, which supply much of the power for the ovens and grills, and the fact that nearly every stick of lumber in the place was repurposed from somewhere else. They also discussed their focus on sourcing local ingredients as much as possible. Their pride shows in the quality of their products, right down to the biodegradable take-home/take-out bags.
We finished our meal with a fantastic chocolate cookie dough cannoli. We were stuffed – but we'll be back again. More pizza, or maybe some of those great hot sandwiches and salads that we saw on the menu!
Katie was the Executive Director of the Lake Mills Main Street Program from 2011 to 2019 and was the Secretary for the Jefferson County Tourism Council. In 2019, she retired to explore a new fashion degree and travel throughout the world. Katie was also a writer and contributed a great deal of copy for our website and printed guide. She was a great asset to our organization and we'll miss her!