Restaurant Review Crew – The Pine Cone – Johnson Creek, WI
THE PINE CONE
TRAVEL PLAZA
RESTAURANT & BAKERY
Jefferson County Wisconsin Restaurant Review Crew
Located on Highway 26 at Interstate 94 Johnson Creek, WI – 920-699-2767
LATE NIGHT HUNGER…It's 2:00 o'clock in the morning. Wide awake. "Must have carryout pizza." Reach for your cell phone & speed dial the Pine Cone Johnson Creek 24 hours per day, 7 days a week. They'll have 'er ready for you.
SUPPERTIME…It's 5:00 o'clock in the early evening. "What's for dinner mom?" The kids are driving you nuts. They get what they like – mounds of French fries, burgers etcetera…and mom gets delicious grilled fish or maybe a fresh salad. Remember, everything is BIG, so you'll have enough salad leftover for lunch tomorrow! Pine Cone Johnson Creek 24 hours per day, 7 days a week.
SUNDAY BRUNCH…It's Sunday morning after church. You do not want to go home and make a big breakfast. Eating light? Try the Omelittle for the little eater! One egg cheese omelet served with two sausage links & a warm fresh baked muffin (careful, the muffins are the size of your head) $4.25!  Pancakes the size of New Jersey. You get it. Unbelievable! Pine Cone Johnson Creek 24 hours per day, 7 days a week.
BREAKFAST ALL DAY, EVERY DAY…Want to pretend you drove all night and just rumbled in from San Antone wheelin' your Peterbilt with a truck drivin' hunger? Well pardner, wrap your chops around The Pine Cone's T-Bone Steak 24 oz. & Eggs U.S.D.A. Choice steak, char broiled to taste, served sizzling with 2 eggs, hash browns & toast…all for and amazingly low price of $15.95! Pine Cone Johnson Creek 24 hours per day, 7 days a week.
LUNCH…Craving home-made soup and a GREAT BIG SANDWICH…man, EVERYTHING is BIG & SO GOOOOOOOOD from the Club Sandwiches & Burgers to the Good Traveler selections and scrumptious Melts. You got it brother, it's The Pine Cone Johnson Creek 24 hours per day, 7 days a week.
BAKERY…Want to be the hero at work first thing in the morning?
Eight of us shared ONE cinnamon roll and everyone had a nice portion. BIG? Uh huh. HUMONGOUS! AND GOOD! 10 kinds of pies, caramel rolls, cookies…the list goes on. You cannot go wrong.
Here's the key: The Pine Cone GUARANTEES EVERYTHING IS FRESH simply because of the volume of hungry diners that meet for breakfast, lunch, dinner and that late-night snack.
THE REVIEW
Eight hungry adults arrived on a recent Saturday morning. There is plenty of room and the place is laid out for easy conversation, despite the fact that some of our group is a little hard of hearing.
THE STAFF We initially had 3 wait-staff getting us set up with waters, coffee, tea, juices. Magically quick, but we never felt hurried throughout. Friendly? Just what you'd expect: wise-cracking, warm and fun.
THE FOOD Waffles, eggs, muffins, biscuits and gravy, I had the chicken fried pork loin and had enough between the main dish, enormous mound of hash browns & a muffin for breakfast the following morning for two of us. The food lived up to the Pine Cone's PR: everything home-made, guaranteed fresh and delicious.
Solid American fare served well. Can't say it any better.
Tons of families, seniors and yes, truck drivers. The Pine Cone serves 'em all. Try The Cone once, you'll be back.
"Can I get a box?"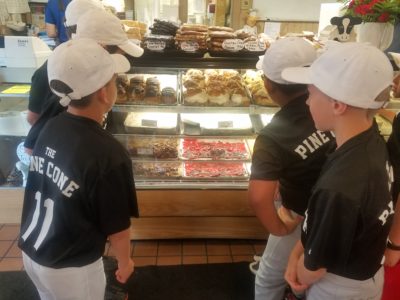 Your Jefferson County Restaurant Review Crew
Katie was the Executive Director of the Lake Mills Main Street Program from 2011 to 2019 and was the Secretary for the Jefferson County Tourism Council. In 2019, she retired to explore a new fashion degree and travel throughout the world. Katie was also a writer and contributed a great deal of copy for our website and printed guide. She was a great asset to our organization and we'll miss her!