Restaurant Review Crew – The Trout House at Rushing Waters – Palmyra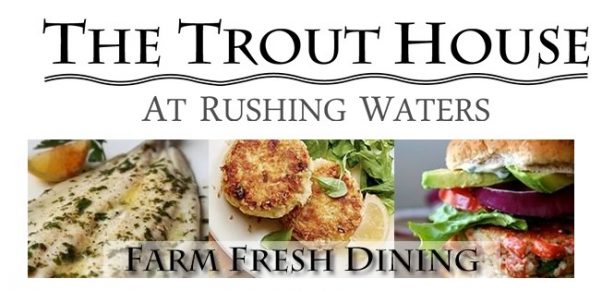 THE TROUT HOUSE
N301 Cr H
Palmyra, WI
262-495-2089
www.rushingwaters.net/the-trout-house
Sunday Brunch
All You Care to Eat Breakfast Buffet Complete with chef prepared omelet station and free coffee for seniors
Adults: $10.95 Kids (3-12): $7.95 – Under 3: Free
9:00am – 3:00pm
Your Supper Club Review Crew could not find an evening that would work for all, so we thought you – our readers – would like to hear about brunch at one of our favorite fish fry places: The Trout House at Rushing Waters Fisheries in Palmyra, Wisconsin.
The Trout House buffet includes mini bagels, mounds of bacon, scrambled eggs, potato hash, French toast, fresh melons and strawberries, and tasty crackers with a delicious smoked trout spread.  The buffet includes a freshly made-to-order omelet.
Some of us ordered off the brunch menu: Country Ham & Crab Cake Benedicts.  The pair of benedicts came with a poached eggs on top of the ham or crab cake nestled on an English Muffin.  A light tasty Hollandaise sauce covered each.  The sauce was so good, you might ask for a bit more with your order.  The two benedicts come with a choice of potato – potato pancakes with applesauce or "potato hash" consisting of red potatoes, onions and red pepper bits.
Also off the menu, the Smoked Trout Scrambled Eggs included gouda cheese, peppers, and onions.  The member who ordered it said it was "very gouda with the gouda cheese."
Another member had the Seared Trout with Hollandaise Sauce accompanied by scrambled eggs which were declared to be perfectly done and very moist.
Good coffee was served and glasses of juice were ordered.  Rushing Waters also offers many morning cocktails such as bloody Mary's, Mimosas, and Fuzzy Navels to name a few.
The Trout House is a popular place on Friday nights for the fish fry and also on Saturday nights for the steaks, prime rib, salmon, and ever present fresh trout entrees.
The Trout House is a bright, airy, open dining space with windows all 'round.  They have a store at the entrance offering several trout, salmon, and other fresh and frozen items for you to take home. You can also catch your own fish in one of their trout ponds and bring your fish in for them to filet and package to either take with you or you can watch it cooked and you can consume your delicious trout on the spot.
Check the website for special events as well.
Rush the Trout House at Rushing Waters. You'll be glad you did.
Your Jefferson County Tourism Council's Supper Club Review Crew – eating and reviewing our way through Jefferson County – one restaurant at a time…
Katie was the Executive Director of the Lake Mills Main Street Program from 2011 to 2019 and was the Secretary for the Jefferson County Tourism Council. In 2019, she retired to explore a new fashion degree and travel throughout the world. Katie was also a writer and contributed a great deal of copy for our website and printed guide. She was a great asset to our organization and we'll miss her!